a
Naval Forces News - Russia
Russia's Navy Receives First Batch of Overhauled Ka-29 helicopters
Russian Helicopters Group, a subsidiary of Russia's state hi-tech corporation Rostec, has delivered a batch of Kamov Ka-29 (NATO reporting name: Helix-B) shipborne transport rotorcraft to the Defense Ministry, the group's press office said.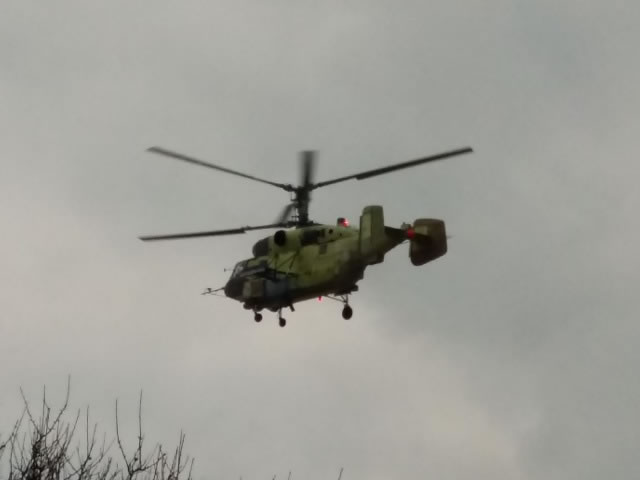 Russian Navy Ka-29 Helicopter
during a flight test at Kumertau Aircraft Plant in the Urals in December. Picture: SAP / aviaforum.ru

The helicopters were repaired at the Kumertau Aircraft Plant in the Urals, the press office added.

"The helicopters have undergone all required trials and will arrive for the Russian Pacific Fleet's airbase in the imminent future. Their main rotor masts, engines and gearboxes were overhauled and the helicopters were repainted," the press office said.

The Ka-29 shipborne helicopter is designed for antisubmarine warfare and can be carried by ships of various types, including aircraft carriers. The helicopter can detect advanced submarines and underwater targets, transmit data on them to shipborne and coastal posts and attack them.

The Ka-29 shipborne helicopter can be also used to evacuate injured persons and transport military personnel and cargo. The helicopter's transport version can carry up to 16 paratroopers or 10 injured persons, including four stretches. The helicopter can carry up to 2,000 kilograms of cargo in the cabin or up to 4,000 kilograms of cargo with an external sling. The Ka-29 helicopter can be equipped with a winch with a cargo-carrying capacity of up to 300 kilograms.

© Copyright 2016 TASS. All rights reserved. This material may not be published, broadcast, rewritten or redistributed.