a
Naval Industry News - Russia, India
Russia's Sevmash shipyard to Maintenan Indian Navy Aircraft Carrier INS Vikramaditya
Russian shipyard Sevmash and India will sign new contracts for the maintenance of the Vikramaditya aircraft carrier (former Russian through-deck cruiser Admiral Gorshkov), the shipyard's press office told journalists on Wednesday.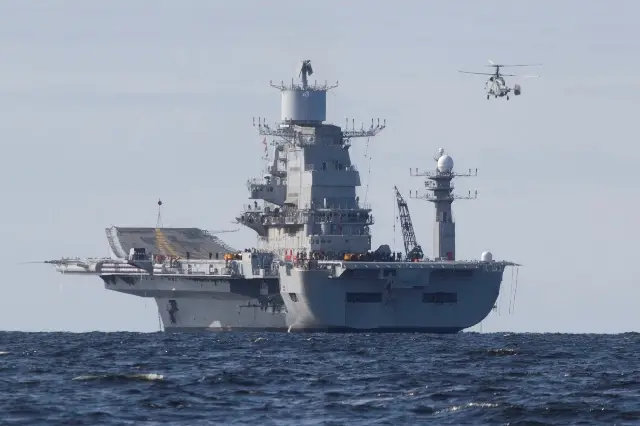 INS Vikramaditya, ex-Admiral Gorshkov. Picutre: Sevmash

"New contracts for servicing the Indian Navy's Vikramaditya aircraft carrier and supplying her with spares, tools and accessories," the press office said.

Sevmash noted that the carrier's operation in India "has been a success". "India has been satisfied with the way we meet our warranty commitments," the press office added.

Sevmash delivered the carrier to the Indian Navy on November 16, 2013 on condition of a one-year warranty servicing. As was said by the shipyard previously, the Indian MoD suggested Sevmash perform the Vikramaditya's life-cycle support. The agreement on the purchase of the carrier was signed in January 2004. India got the Admiral Gorshkov's hull free of charge on condition of its upgrade and outfitting with a carrier air wing made up of Russian-built aircraft. In addition, Russia committed to train the carrier's complement. At first, the contract had been valued at $1.5 billion and the upgrade expected to be completed in 2008, but the work slipped behind schedule and the value of the deal grew to $2.33 billion, according to India.

After the Vikramaditya had been upgraded, her total displacement increased to 45,000 tons. The carrier was fitted with an up-to-date flight deck and a ski-jump ramp for ramp-assisted takeoff, navigation, radar, communication and aircraft control systems, etc. The ship carries 30 fixed-wing and rotary-wing aircraft, including Mikoyan MiG-29K (NATO reporting name: Fulcrum-D) fighters (the same are supplied for Russian aircraft carrier Admiral Kuznetsov). Sevmash has repeatedly emphasized that the upgrade resulted in a de-facto different ship.

© Copyright 2015 TASS. All rights reserved. This material may not be published, broadcast, rewritten or redistributed.