a
Naval Industry News - Russia
Russia's Rubin Design Bureau developing several types of unmanned underwater vehicles UUV
Rubin design bureau is set to create a series of modular unmanned underwater craft, Director General of the company Igor Vilnit told TASS. "We initiated the work to create a series of autonomous unmanned underwater craft build according to the module principle," he said.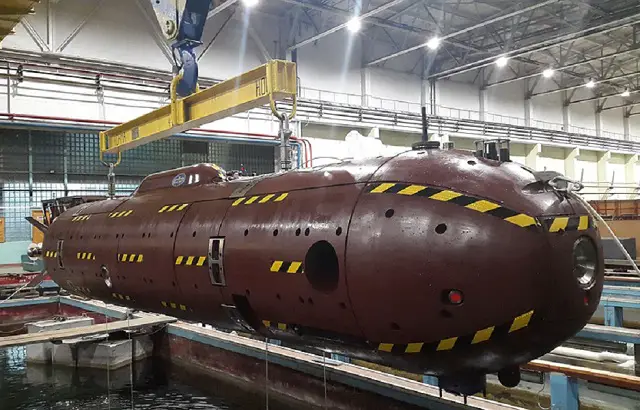 Rubin's Klavesin-2R-PM UUV. Picture: JSC "Central Design Bureau" Rubin "Marine Engineering
Modules will allow adapting the craft for a concrete mission. The possibility and cost of such design make it "very competitive" on the global market, Vilnit stressed. Rubin plans to create various class craft - small, medium and heavy, both surface and underwater, autonomous and remotely piloted. "The final end is to create a technopark on the basis of Rubin which will be a high-tech center for the creation and serial production of underwater robots," Vilnit said.

He believes the design of remotely piloted underwater craft is a promising guideline. "We are preparing to produce them. Rubin operates in the interests of the defense ministry and the oil and gas industry," Vilnit said.
In the near future Rubin will complete the creation of an unmanned underwater craft Klavesin-2R-PM for search operations and scientific research. "Complex Klavesin-2R-PM has a bigger autonomy and submersion depth compared to Yunona. Besides viewing and search functions, it can also engage in scientific research in deep waters of the world ocean," Vilnit said.

The mobile autonomous unmanned underwater craft Yunona was displayed at the Army-2015 show. It is designated to monitor underwater situation, conduct search and rescue operations and work on the Arctic shelf. Yunona can operate for six hours at depths of up to a thousand meters. The craft is 2.9 meters long, its diameter is 0.2 meters and the weight is 80 kilograms. Vilnit earlier said the Russian Navy displayed interest in the craft.

Rubin is also working on preliminary design of unmanned craft for construction and operation of drilling rigs in the Arctic. The craft will facilitate subice and underwater drilling, Vilnit said. "The designed underwater craft will conduct search and survey operations on the seabed of the ocean to assist the construction of the drilling facility as well as safety of its operations," he explained. Besides, Russia is creating an underwater robotized complex to protect Arctic maritime areas and continental shelf. "The creation of the most complex robotized system for protection of extensive maritime regions and continental shelf is at an active stage," said Rubin CEO.

© Copyright 2016 TASS. All rights reserved. This material may not be published, broadcast, rewritten or redistributed.