a
Naval Industry News - USA
HII Awarded Advance Planning Contract for the 3rd Ford-Class Aircraft Carrier, Enterprise (CVN 80)
Huntington Ingalls Industries was awarded a $152 million contract today for advance planning for the construction of the aircraft carrier Enterprise (CVN 80). The third aircraft carrier in the
Gerald R. Ford class
was named in honor of the U.S. Navy's first nuclear-powered aircraft carrier, USS Enterprise (CVN 65).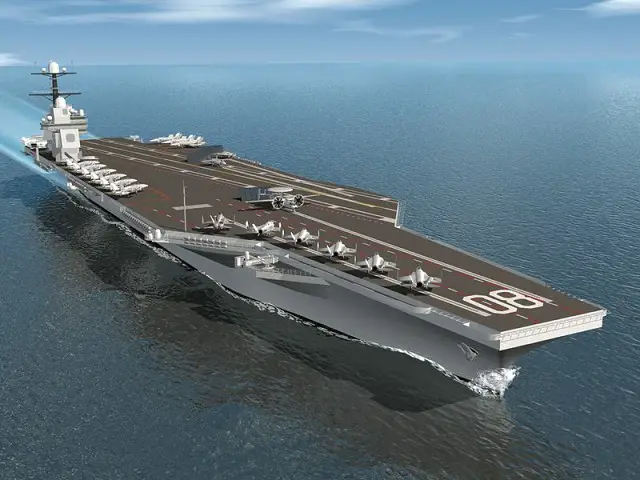 Rendering of the third ship in the Ford class of aircraft carriers, Enterprise (CVN 80). Image: HII
The work, which includes engineering, design, planning and procurement of long-lead-time material, will be performed at the company's Newport News Shipbuilding division through March 2018.

Construction on Enterprise is slated to begin in 2018 with delivery to the Navy in 2027. The new Enterprise will eventually replace the USS Dwight D. Eisenhower (CVN 69) when the aircraft carrier enters the fleet.

"We are eager to begin planning and purchasing long-lead-time material for the next Enterprise," said Mike Shawcross, Newport News' vice president of CVN 79 and CVN 80 construction. "Advance planning allows us to begin applying lessons learned from CVN 78 and CVN 79 more effectively, while providing stability to our workforce and the industrial base, in order to deliver the ship at the lowest cost possible."

Shipbuilders have captured thousands of lessons learned in the process of building Gerald R. Ford, most of which are being implemented as cost-saving initiatives in building the second ship in the class, John F. Kennedy (CVN 79). These initiatives will continue on Enterprise, and HII will work with the Navy to identify additional cost-saving initiatives for future Ford-class carrier construction.