a
Naval Forces News - Russia
Russia's 2nd Project 955A SSBN Submarine Completes Hydraulic Pressure Tests
The first serial-produced Project 955A Borei-A-class nuclear-powered ballistic missile submarine Knyaz Oleg has completed its hydraulic pressure tests, the press office of Russia's Sevmash Shipyard said. The Sevmash Shipyard is a subsidiary of Russia's United Shipbuilding Corporation.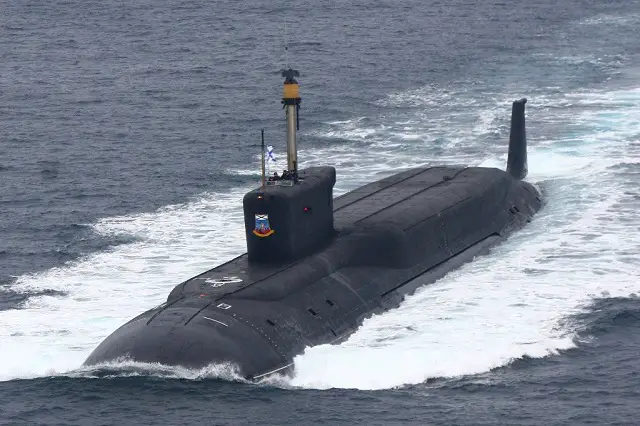 The K-535 Yuriy Dolgorukiy, first Project 955 Borey-class SSBN
"The trials were successful. Thus, we can say that the work that started in 2014 when the nuclear-powered submarine was laid down has been done well. The submarine's hull has proved design characteristics," Mikhail Polzikov, who is responsible for the submarine, said.

According to the press office, an important stage of the submarine's construction, i.e. the hydraulic pressure tests of its strong hull, has been completed.

Leakproofness trials are a complex and comprehensive process that requires large-scale preparation work and a lot of time. Work is currently under way to test the submarine's strong hull.

© Copyright 2016 TASS. All rights reserved. This material may not be published, broadcast, rewritten or redistributed.

About Project 955A
On 15 December 2009, a Defense Ministry official announced that the laying down of the fourth Project 955 Borei-class submarine had been postponed from December to the first quarter of 2010. The reason for the delay was said to be "organizational and technical reasons". The fourth ship of the 955 class will actually be the first improved "955A" variant. It is reported by unnamed sources that this modification will include major structural changes and probably other changes. Two Project 955A submarines, the Knyaz Oleg and Generalissimo Suvorov, were laid down in 2014. The Project 955A submarine Emperor Alexander III was laid down in 2015.