a
Naval Forces News - Russia
Pantsir-M Naval Air Defense Missile/Gun System to Enter Service with Russian Navy Before Year-End
A navalized Pantsir anti-air gun/missile system (Pantsir-M) will have entered service before the end of the year, Dmitry Konoplyov, dual-hatted as director general of High-Precision Systems and managing director of the Instrument Design Bureau (KBP), has told TASS at the 13th IDEX international arms show (IDEX 2017).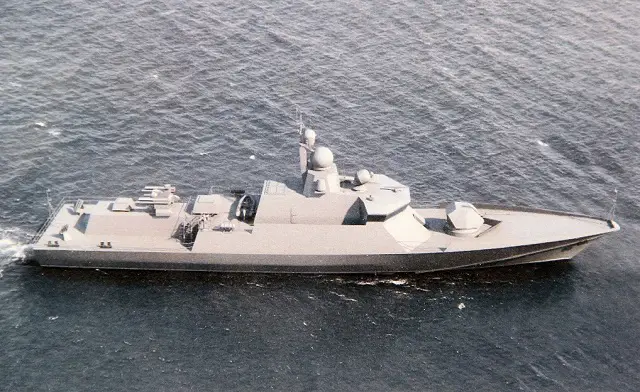 Artist impression of Project 22800 Corvette. Image via BMPD / Curious / forums.airbase.ru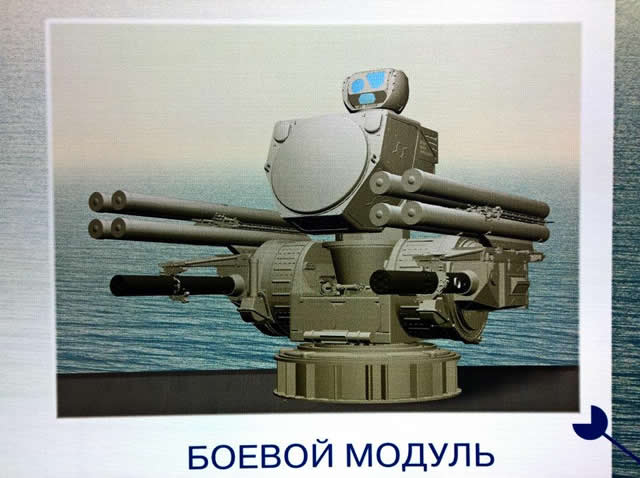 Pantsir-M Project as showcased by KBP during IMDS 2015 maritime defense exhibition in St Petersburg. Image via BMPD/
Michael Zherdev

"The ship-based Pantsir will have been adopted into the inventory before the end of the year," Konoplyov said,
Previously, Alexander Zhukov, KBP's chief designer for naval air defense systems, told TASS that the Pantsir-M designed for the Russian Navy's warships had entered production.

The Pantsir's ship-borne version can pack the missile used by the baseline Pantsir-S1 (SA-22 Greyhound) land-based SPAAGM system and the future Germes-K surface-to-air missile (SAM) that can be guided to the target by an unmanned aerial vehicle. According to KBP, the Pantsir-M is to replace the Kortik (SA-N-11 Grison) SAM system.
© Copyright 2017 TASS. All rights reserved. This material may not be published, broadcast, rewritten or redistributed.
Navy Recognition Comments:
The first class of vessel to be fitted with Pantsir-M will likely be
the Project 22800 (code Karakut)
Corvette.
The Pantsir-M is based on the land based Pantsir-S1, but has a different artillery system- as can be seen on the above pictures, including two GSh-6-30K / AO-18KD 30mm six-barrel guns as found on the Kasthtan CIWS. Pantsir-M also comes with an additional radar system, separate from the one fitted ontop of the turret itself.
The land based Pantsir-S1, produced by Russia's KBP is a gun-missile system combining a wheeled vehicle mounting a fire-control radar and electro-optical sensor, two 30-mm cannons and up to 12 57E6 radio-command guided short-range missiles, and is designed to take on a variety of targets flying at low altitudes. Link to Pantsir-S1 technical datasheet