a
Naval Defense News - USA
General Atomics to Provide EMALS for Future Ford-class aircraft carrier USS Enterprise (CVN 80)
General Atomics (GA) announced today it has been awarded the sole source production contract modification for the Electromagnetic Aircraft Launch System (EMALS) for Gerald R. Ford-class aircraft carrier Enterprise (CVN 80). EMALS for CVN 80 is part of the definitized sole source production contract awarded to GA for the John F. Kennedy (CVN 79) currently under construction, to provide significant cost savings to the Navy over the next decade and beyond.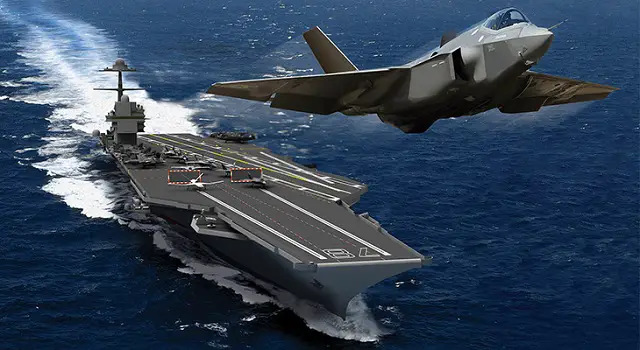 Electromagnetic Aircraft Launch System (EMALS) was fitted first onboard head of class USS Gerald R. Ford. Picture: General Atomics

"We are extremely proud to be selected as the sole source provider of this first-of-kind aircraft launch technology for all three of the Navy's Ford-class carriers, including CVN 78, CVN 79, and now CVN 80," stated Scott Forney, president of GA Electromagnetic Systems (GA-EMS). "This contract allows the Navy to combine procurement of materials associated with EMALS for CVN 79 and CVN 80 to optimize cost savings and production scheduling. We look forward to working closely with the Navy over the next 10 plus years to provide all the capabilities and support necessary to successfully deploy EMALS on each carrier as they prepare to join the fleet."
Video interview on EMALS and AAG during SNA 2017

GA-EMS will provide all production, manufacturing, engineering, design and program management, logistics support, and information assurance. GA-EMS will also subcontract to suppliers across the U.S. for necessary component manufacturing support. EMALS dead load testing on-board CVN 78 has been successfully completed.