a
Naval Forces News - Russia
Sevmash Shipyard Lays Keel of Project 885M Yasen-M Submarine Ulyanosk - 7th Yasen class SSN
The Project 885M Yasen-M-class (NATO reporting name: Severodvinsk-class) Kazan nuclear-powered attack submarine is shorter than the lead ship in the class, the Severodvinsk, and furnished with cutting-edge equipment and weapons, according to the Izvestia daily. The sophisticated nuclear-powered Kazan is several meters shorter than the lead ship. The Russian Navy operates a single Project 885 sub, the Severodvinsk, at present. The Kazan launched in March this year has been redesigned completely.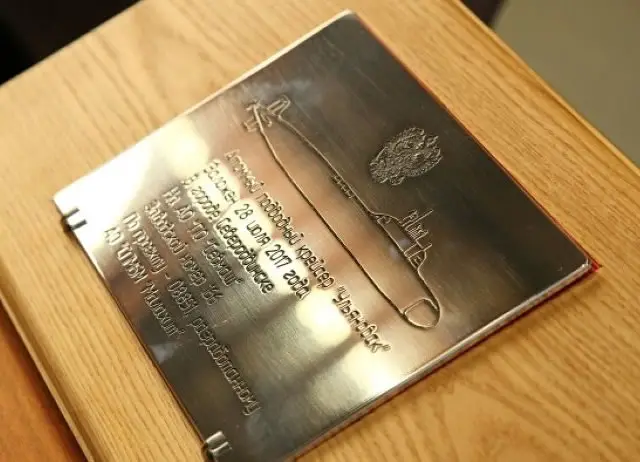 Keel laying ceremony for Yasen-M class submarine Ulyanosk. Picture: Press Service of the Governor and the Government of the Arkhangelsk Region.

The laying ceremony was timed to the Navy Day. A plaque with the name of the submarine and the keel laying date was fixed to a section of the future warship. The event was attended by Navy Deputy Commander-in-Chief for armaments Vice Admiral Viktor Bursuk.

The nuclear submarines of the Yasen project were created by the Malakhit Maritime Design Bureau in St. Petersburg. They are designated to destroy adversary submarines and warships, strike at naval bases, ports and warship groupings and other targets. The armaments comprise torpedoes and cruise missiles Onix and Kalibr.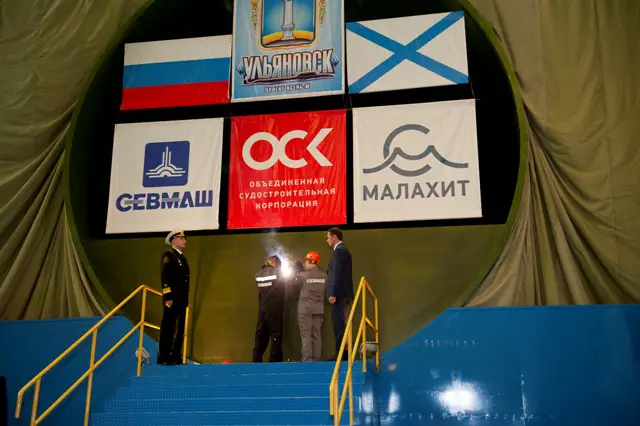 Keel laying ceremony for Yasen-M class submarine Ulyanosk. Picture: Sevmash Shipyard.

The Russian Navy currently has only one multipurpose Yasen submarine - the Severodvinsk. The Navy received it in the summer of 2014 but the submarine was in test operation until the spring of 2016. The following Yasen submarines are being built by upgraded project 885M.

The Yasen is a fourth-generation multipurpose nuclear submarine. In contrast to the predecessors their torpedo launchers were removed from the foreship and replaced there by a hydroacoustic complex with a spherical antenna which detects enemy targets at major distances.

© Copyright 2017 TASS. All rights reserved. This material may not be published, broadcast, rewritten or redistributed.

Comment:
For now, the Russian Navy operates a single Project 885 submarine, the Severodvinsk. The Kazan shall be the second one in the family. Four more - the Arkhangelsk, Novosibirsk, Krasnoyarsk and Perm - are in various stages of completion in the shops of the Sevmash Shipyard. Except for the first ship of class, all follow on submarines feature the improved design (Yasen-M) with a slightly shorter hull.