a
Naval Forces News - Russia
Engineering Design for Admiral Kuznetsov Aircraft Carrier Repairs has been Set
The Nevskoye Design Bureau has come up with an engineering design for the medium repair and upgrade of the Project 11435 (NATO reporting name: Kuznetsov) Admiral Kuznetsov aircraft carrier, Nevskoye's Director General Sergei Vlasov has told TASS.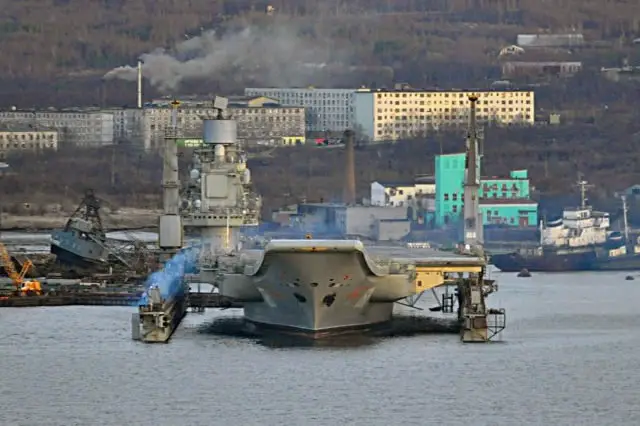 Russian Navy Aircraft Carrier Admiral Kuznetsov inside the dock in Severomorsk/Murmansk in 2015. Picture: Flotprom.ru
"The engineering design for the carrier has been prepared, and we are waiting for a response by the Defense Ministry," he said.

According to Vlasov, the timeline and list of specific works shall be hinged on the financing of the program.

"The repair may take two to three and a half years," he said without specifying the amount of financing.

Previously, a source in the defense industry had told TASS that the Zvyozdochka Shipyard would start the Admiral Kuznetsov's repair in the earlier half of 2017.

The Admiral Kuznetsov was designed by Nevskoye, commissioned by the Russian Navy in the early 1990s and has not undergone medium repair and upgrade since then.
© Copyright 2017 TASS. All rights reserved. This material may not be published, broadcast, rewritten or redistributed.