a
Naval Industry News - USA, KSA

Saudi Arabia Procures Four MMSC based on Lockheed Martin's Freedom LCS
On May 22nd, the United States and the Kingdom of Saudi Arabia (KSA) took major steps to enhance global security and stimulate economic progress in the United States and the Middle East. KSA has expressed its intent to procure more than $28 billion worth of Lockheed Martin integrated air and missile defense, combat ship, tactical aircraft and rotary wing technologies and programs. The agreement includes four Multi-Mission Surface Combatant (MMSC) based on the Freedom-class LCS Lockheed Martin's industry team is building for the U.S. Navy.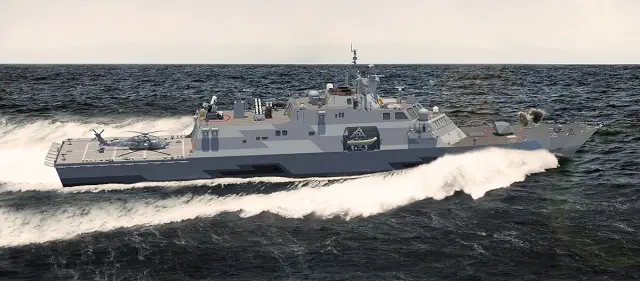 A recent artist impression of the MMSC released by Lockheed Martin. It is not clear if this is representative of the Royal Saudi Navy configuration as it differs quite a lot compared to the scale model (note the Mk41 VLS cells fitted for
ward and different main gun).

During the Surface Navy Association's (SNA) 2016 National Symposium currently Navy Recognition was the first to report on the MMSC model showcased for the very first time by Lockheed Martin. This was variant was being offered to the Royal Saudi Navy as part of a modernization program of the Saudi navy's eastern fleet called SNEP II (Saudi Naval Expansion Program)
LCS Frigate / MMSC scale model in Royal Saudi Navy Configuration as showcased by Lockheed Martin during SNA 2016.
Back in

October 2015

, the U.S. Defense Security Cooperation Agency (DSCA) announced via press release that the U.S. State Department gave its green light for a proposed sale to Saudi Arabia of four MMSC Ships, an export variant of Lockheed Martin's Freedom class LCS currently in use with the U.S. Navy.

The model on display at SNA 2016 featured an Oto Melara 76mm main gun, 8 Harpoon anti-ship missiles (in two launchers), 2x8 MK41 VLS cells (on each side of the helicopter hangar), a SeaRAM on top of the hangar, two triple torpedo launchers and what looked like two Mk38 turrets. These probably just to give a notional idea of a remote weapon stations (RWS) since the DSCA release originally mentionned Nexter's Narwhal 20mm RWS.

Close up view of some of the weapon systems arangement on the MMSC for the Royal Saudi Navy. Note the 8x Harpoon missiles, 16 Mk41 VLS and SeaRAM.
Two CEROS 200 radar and optronic tracking fire control director by Saab are also fitted: One forward (on top of the deck house) and the other one back aft, between the harpoon launchers and the SeaRAM system. A Lockheed Martin representative told Navy Recognition during the show that the aft mounted CEROS had to be elevated because the SeaRAM would otherwise block some of its field of view.

In terms of sensors, the Saudi Navy MMSC would be fitted with an Airbus D&S TRS-4D AESA Radar, a Variable Depth Sonar (likely Thales CAPTAS type), Saab Ceros 200 radar and optronic tracking fire control director, Argon ST WBR-2000 Electronic Support Measure and Threat Warning System. The combat management system is set to be similar to the one fitted onboard the Freedom class LCS: The COMBATSS-21 by Lockheed Martin.

Below the helicopter deck is a mission bay area that still has some built in modularity. There is space for a ramp launched RHIB and/or a variable depth sonar. A Lockheed Martin representative told us that the final design and configuration is still being worked on. Hull size and shape, propulsion system, power output, helicopter hangar etc remain unchanged compared to the U.S. Navy Freedom class LCS.

The deal signed yesterday also include spares, training and other logistics items for the program. A Memorandum of Understanding between Lockheed Martin and Saudi Arabian Military Industries for the parties to work together to build defense capabilities in the KSA to support Vision 2030 and provide for localization efforts associated with Multi-mission Surface Combatants was signed as well