a
Naval Forces News - Canada
Interim Auxiliary Oiler Replenishment AOR Ship Launched for Royal Canadian Navy
Davie Shipbuilding today announced that during the weekend it launched the largest naval vessel ever to be delivered from a Canadian shipyard – on time, to budget and at an internationally competitive cost.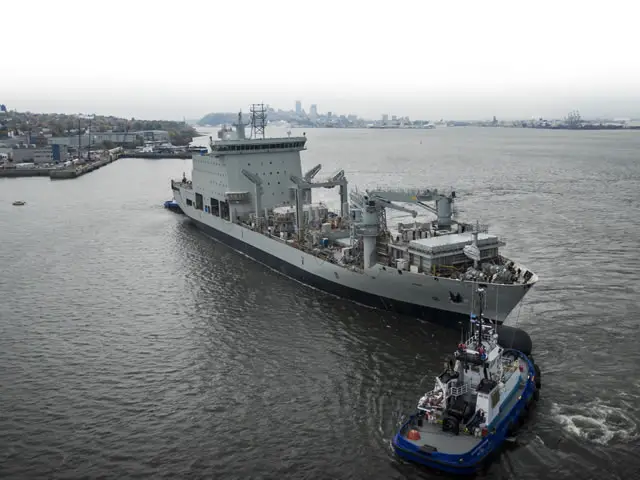 MV Asterix launched in the water. Davie Shipbuilding picture.
Commissioning of all onboard systems began in early September and on the 16th November 2017, the ship will perform its sea-trials prior to achieving Full Operational Capability (FOC). During the sea-trials – overseen by Lloyds Register – the ship's safety, quality, systems and functionality will be tested against the high military standards and specifications which it has been built to.

The build quality and modern design of this ship, with the latest Canadian naval systems, is testament not only to Davie's experience, infrastructure and unparalleled expertise but also to the incredible contribution by the hundreds of Canadian suppliers involved. Over 900 Canadian companies have contributed to the build of the ship, including the supply of key military-specified equipment such as its Integrated Navigational and Tactical System (INTS), its NATO-compliant Replenishment-At-Sea (RAS) systems and its naval Integrated Platform Management System (IPMS).
Civilian container vessel M.V. Asterix was converted into an Auxiliary Oil Replenishment (AOR) ship for the Royal Canadian Navy's interim supply ship capability. Picture: Chantier Davie
Alex Vicefield, Chairman of Davie Shipbuilding, commented, "The delivery of this ship has clearly demonstrated that there is a Canadian shipyard capable of delivering complex naval platforms on time, to budget and at internationally competitive prices. In the knowledge that the Royal Canadian Navy needed this ship urgently, our 1,400 staff have worked day and night to ensure that it is not only delivered on time but that it is of a quality that will be able to serve Canada proudly for decades to come. The success of this multi-functional design, which is equally suited to both combat and humanitarian operations, has generated worldwide interest from foreign navies."

Spencer Fraser, CEO of Federal Fleet Services, added, "Our Canadian crew are all onboard and are ready to begin operations alongside the Royal Canadian Navy. We have prepared for this moment for two years and we will very soon be ready to support Canadian Forces in any theater of operations, worldwide, at a minute's notice."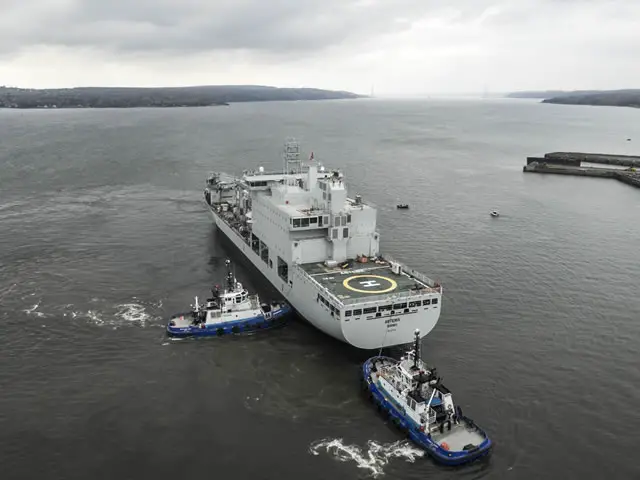 MV Asterix launched in the water. Davie Shipbuilding picture.
The ship was laid down on 21 October 2008 at the Nordic Yards Wismar in Wismar, Germany. The ship was launched as Cynthia on 27 January 2009 and work was completed on the vessel on 1 May 2010.

The vessel has a full load displacement of 26,000 tonnes with a legnth of 182.5 meters and a beam of 25.2 meters. It is fitted with a Phalanx CIWS, L3 MAPSS integrated platform management system (IPMS) and large landing deck capable of handling the largest helicopters, including the CH-147F Chinook.

Asterix will be used for at sea fuel replenishing for both liquid and solids using NATO-standardised methods and two cranes for loading and unloading purposes. The ship will be able to deliver 400 tons of fresh water per day and carry 7,000 tons of fuel oil and 980 tons of JP8 Jet fuel.

The Resolve-Class Auxiliary Oiler Replenishment ship will play a key role in the Royal Canadian Navy's HADR efforts.The specific HADR capabilities include:
A humanitarian processing area for triage and care of evacuees/survivors
A large medical facility for up to 60 patients in two separate wards
Emergency accommodation for up to 350 people (in addition to the ship's current 150 persons capacity)
A ship-shore airlift capability via the two embarked Cyclone CH-148 helicopters
A significant small craft capability that includes up to 8 boats with quick launch and recovery capabilities
The ability to sustain the delivery over 400t/day of Fresh Water and up to 7000t of Fuel Oil, as well as significant power
The transportation and self-sufficient loading and unloading of light vehicles, sea containers and general cargo that are essential for HADR missions.
Computer rendering of the vessel after conversion. Picture: Chantier Davie