a
Naval Defense News - France, Belgium
Thales's autonomous mine hunting system demonstrates outstanding performance in Belgium
On 16th October, the Belgian Navy released an official report from Centre for Maritime Research and Experimentation (CMRE) on the Mine Warfare sea exercise held at Zeebrugge Naval Base during the Belgian Defense Technology & Industry Day in June 2017. During the trials, Thales successfully demonstrated the performances of SAMDIS Multi-view Synthetic Aperture Sonar (SAS) system integrated onboard an ECA A27 AUV platform, in the harsh conditions encountered in the North Sea.
Thales Towed Synthetic Aperture Sonar (TSAS). Thales picture.
The CMRE report indicates an excellent measured performance at sea for Thales, featuring a very high probability of detection and classification associated to a very low false alarm rate. At the same time, Thales has been the only company to consider the importance of false alarm rate and to provide results with varying classification thresholds.

These successful results in real operating conditions confirm that Thales provides a very high combined level of detection and classification needed to counter modern mines. By defeating static underwater threats while reducing human exposure, Thales's autonomous mine hunting systems give strategic, operational and tactical freedom of maneuver to help Navies ensure their ability to move safely along strategic routes and through chokepoints.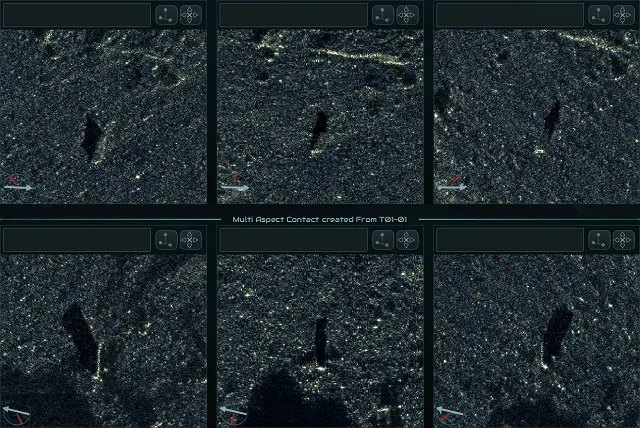 Sonar view. Thales image.
In the framework of the Belgian/Dutch MCM capability replacement programme, Thales intends relying on its multi domain pedigree to offer state-of-the-art solutions in MCM: mission system integration and naval combat system. This will ensure a strong level of local industry involvement in terms of system development as well as future system support, combined with a very high level of operational efficiency.

Since 2016, Thales has been performing a number of successful demonstrations involving its HALCYON USV towing its Towed Synthetic Aperture Sonar (TSAS) off the North Sea Coast of Zeebrugge in Belgium and in Northern Scotland for the Royal Navy Unmanned Warrior exercises. At the end of the 2016 trials in Belgium, Thales was already very well assessed for detection performance against all mine types. Thales is the prime contractor of the MMCM programme, the only European project aimed at developing concretely a prototype autonomous system for detection and neutralisation of sea mines and underwater improvised explosive devices, under a cooperation agreement between France and the United Kingdom.