---
The Ivan Gren lead big landing ship of project 11711 will resume in February the trials which were suspended in late December 2017 and complete them this month, spokesman of the Yantar shipyard Sergey Mikhailov said.
---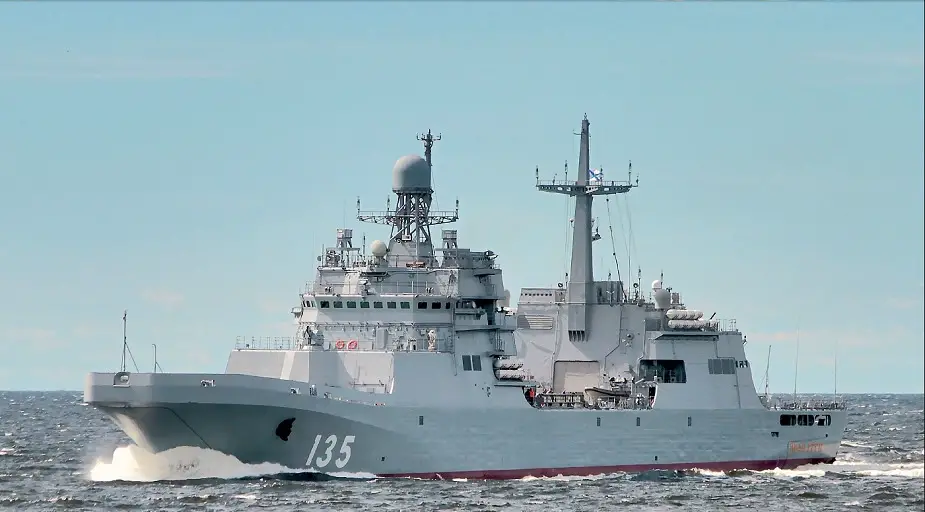 Landing ship of project Project 11711 Ivan Gren during trials in the Baltic. Picture by Alex Akentyev.
---
"It is planned to complete government acceptance trials of the Ivan Gren by the end of February after which the shipyard will do the final finishing and prepare the warship for handover to the customer. The flag is likely to be hoisted on the Ivan Gren in the first quarter of the year," he said.

Chairman of the acceptance team of the Ivan Gren decided on December 26 to suspend acceptance trials. Shipyard project Managing Director Roman Fedyunin said the "reason was a number of exposed problems whose elimination demands a decision of the customer and naturally time."

"The Navy created a taskforce to draft proposals and decisions and it is to complete the work in the first half of February. Acceptance tests will resume after that and the Ivan Gren will make several more sorties," Mikhailov said.

The Ivan Gren is the lead warship of project 11711 designed by the Nevskoe bureau. It was laid by Yantar shipyard in December 2004 but floated only in May 2012 because of a big number of changes to the technical assignment made by the Navy at the initial construction stage. Factory trials began in June 2016. The Ivan Gren sailed out to the Baltic Sea on November 30, 2017 for acceptance trials.

The warship can carry 13 main tanks, 36 APC or IFV or 300 marines. It can deliver a reinforced marine company with hardware and land it on pontoons. The weapons include 30mm six-barrel antiaircraft guns and the warship carries in hangars two Ka-29 combat-transport helicopters.
---
© Copyright 2018 TASS. All rights reserved. This material may not be published, broadcast, rewritten or redistributed.
---