---
UMS SKELDAR - www.umsskeldar.aero - exhibits with joint venture partner Saab (Stand Number 03-B12) at UMEX 2018, the Unmanned Systems Exhibition and Conference 25-27 February 2018. This event is the opportunity to talk to key military, civilian and Government contacts from across the region on integration of unmanned strategies across a wide bandwidth of applications. The company, no strangers to the UAE, regularly attending UMEX, IDEX and the Dubai Air Show, is ideally placed to support customers in the Gulf region which is especially interesting for the Saab joint venture, formed just two years ago, focused on the mid-range multi-role unmanned rotary VTOL (Vertical Take-off and Landing) market.
---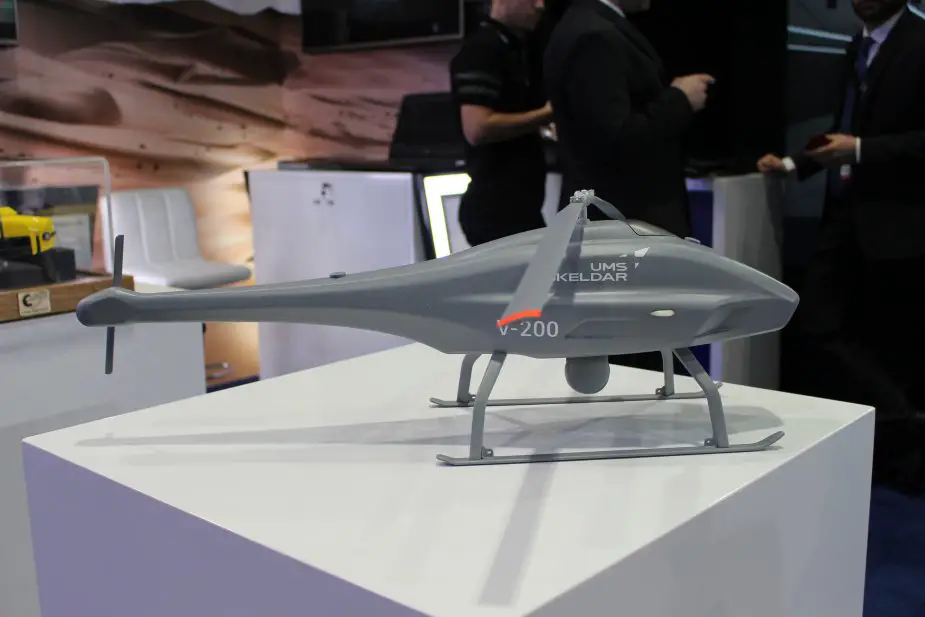 The UMS SKELDAR V-200 (Credit Navy Recognition)

---
The Gulf region is a challenging environment ideally suited to UMS SKELDAR's twin portfolio of medium sized unmanned helicopters. With a peninsular, maritime and land borders, and a spectrum of security challenges, the need for fast response and interdiction integrated with land and naval forces demands agile assets. From infrastructure inspection, maintenance and protection for vital energy resources such as refineries and pipelines, through to military and 'blue light' (i.e. police, fire and associated rescue services) there is a constant need for 'eyes in the sky'.
Through advanced sensors and detection payloads, including advanced LiDAR and the latest technology including Sentient Vision's ViDAR (Visual Detection and Ranging), the world's first Optical Radar. ViDAR is an airborne persistent wide area maritime search system that autonomously detects objects on the ocean surface.
With over 80 times the area coverage compared with existing EO/IR systems, this state-of-the-art system provides the operator with a detailed image of objects that other search methods often miss.
Developing our portfolio focus and strategy our dual platforms have different yet complementary benefits. Flagship NATO (4586 STANAG) compliant SKELDAR V-200 proved itself in Indian Ocean missions off the Horn of Africa, with EU Naval Force (EU NAVFOR) and Operation Atalanta, which is a continuing programme aimed at anti-piracy and smuggling, in one of the world's busiest sea trade routes.
The topography of the Gulf region often demands versatile assets that can rapidly switch between land and maritime missions, sometimes on multiple sorties within an hour. "That's where we have a clear advantage over any platforms in our weight class. Proven two stroke engines, heavy fuel, endurance, rapid maintenance turnaround and ability to integrate into land or sea-based command and control centres, make us the number one choice for military and civilian operations.
The V-200 in its role as ISR/C4ISR integrator, dovetails with BMS (Battlefield Management Systems) or SAR (Search and Rescue). Powered by the most dependable UAV heavy fuel engine in its class, the SKELDAR V-200 is widely regarded as an essential element in naval interoperability strategies as commanders worldwide look to integrate maritime assets of all sizes with UAV cover to provide potent battle space and interdiction options.
The R-350 is a light tactical high-performance ITAR-free (International Traffic in Arms Regulations) rotary UAV. This newly modified platform offers a variety of concepts regarding payload options, combining advanced Electro-Optical and Infrared sensors (EO/IR) with other systems such as LiDAR, Multi and Hyperspectral imaging systems for airborne remote sensing and Chemical Sniffers. Under 150kg Maximum Take-Off Weight (MTOW) the R-350 features include a propulsion unit that can be replaced in less than 45 minutes, and a jet turbine that can be changed in less than 15 minutes.
---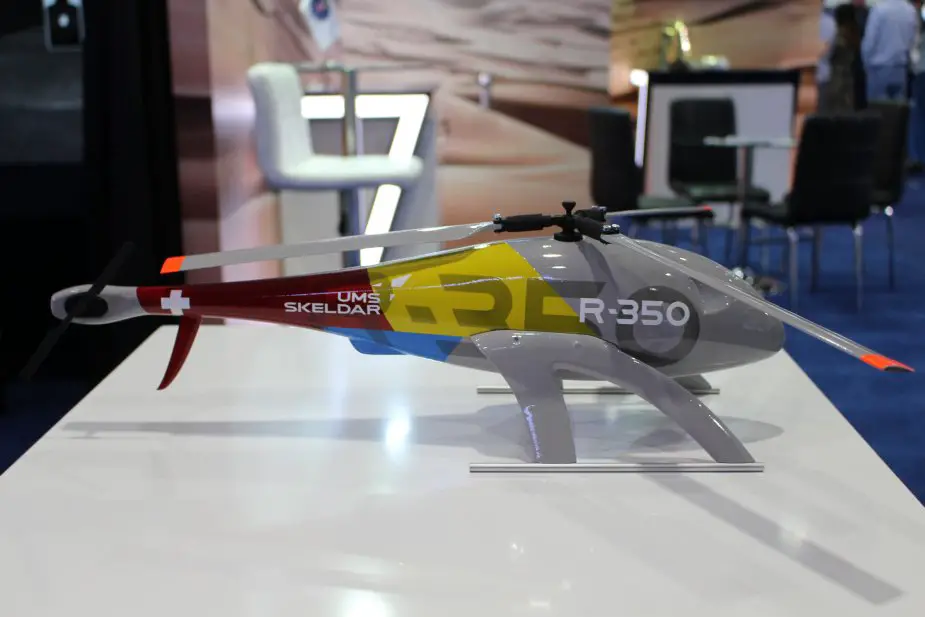 The UMS SKELDAR R-350 light tactical high-performance rotary UAV (Credit Army Recognition)
---