---
The French Navy has taken the decision to acquire 4 new Logistic Support Ships (LSS), also called "Bâtiments Ravitailleurs de Force" (BRF) in French or Force Replenishment Vessels in English. These BRF have been commissioned by the French Navy to "Chantiers de l'Atlantique" and Naval Group, through a € 1,7 billion contract. Delivery will take place between 2022 and 2029.
---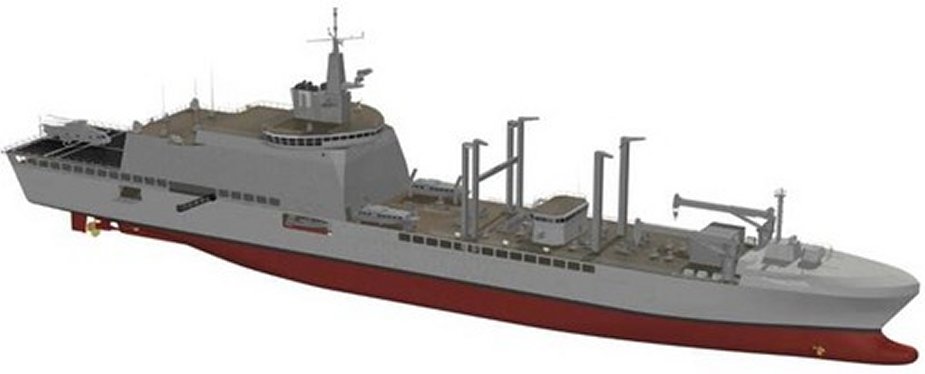 OCCAR's Logistic Support Ship - LSS (Picture source : OCCAR)
---
According to a statement of the French Navy ("Marine Nationale" in French), it has taken the decision to acquire 4 new BRF (previously known as "Flotte Logistique" or FLOTLOG) to increase its auxiliary fleet. Each BRF tanker is scheduled to have a fuel capacity of 13,000 m³ and to be armed with 2 BAE Systems Bofor 40Mk4.
The BRF will be modern and highly effective double-hulled ships, which will comply with existing international regulations. Besides, they will be designed after the Italian LSS Vulcano, as part of the OCCAR. Yet, the BRF is scheduled to be a bit larger than the Vulcano and will also be capable of carrying a bit more stuff. Those vessels will replace the current single-hulled Durance-class tankers of the French Navy that entered active service in the 1970s and 80s.
Such vessels are to help France provide logistical support to its Navy and allied navies. As for aircraft tankers carrying fuel for other aircraft, tanker ships carry fuel for other vessels, but also for aircraft based on carriers. In addition to that, they also have the capability to carry weapons, ammunition, spare parts, as well as medicine, food and water for those other ships. All of these storage capabilities make the BRF be an crucial support for other ships to remain afloat far away from the coasts, extending their mission lifetime. This allows the French Navy to take part to extended and further operations all around the world.
---