---
Through its Neptune project, Ukraine announced in 2013 its desire to provide its forces deterrence against Russian sea power in the Azov region. Neptune uses a 150-kilogram high-explosive fragmentation (HE-FRAG) warhead and can be deployed on air, sea, and land platforms.
---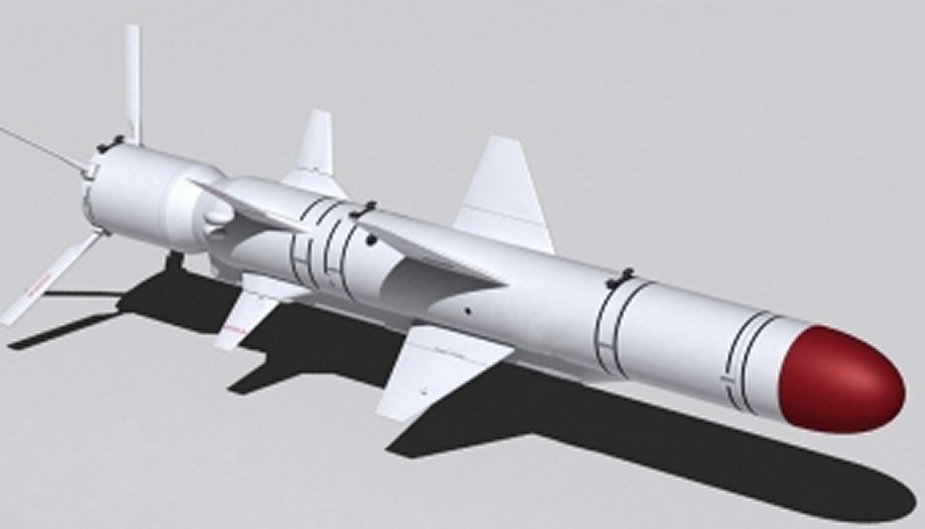 Design concept of the Neptune cruise missile (Picture source : Defense express)
---
Initial deployments of those cruise anti-ship missiles are scheduled for Ukraine's Azov Sea coastal missile defenses. The missile can reach a maximum effective range of 300 kilometers and is designed to destroy vessels with a displacement of up to 5,000 tons. Being a cruciform-winged missile having a full length of 5,050 mm, the Neptune will be launched from a transport/launch canister (TLC) measuring 5,300 x 600 x 600 mm. This missile could be fully operational aboard Ukrainian vessels within 3 years.
Neptune is a lightly modernized variant of the Russian-made Kh-35 anti-ship cruise missile. Introduced in 2003, the Kh-35 is distinguished by its shorter body and range while retaining the core design principles of its Neptune counterpart. Neptune also adds a new inertial guidance system with active radar seeking. It is logical for the Neptune to have similar design as the Kh-35 because of the keyrole Ukraine played in the development of the Kh-35 (R95-300 engine).
Last year, Kiev announced that they had conducted Neptune's first successful flight: "During the successful tests, the missile's flight efficiency and systems operations were checked," according to National Security and Defense Council Secretary Oleksandr Turchynov. "Today's tests have opened a new stage of the missile program, according to which our Armed Forces must receive powerful high-performance cruise missiles that can accurately strike hostile targets at great distances," Turchynov added.
---
Russian Kh-35UE cruise missile at  (Picture source : Navy Recognition)
---