---
According to information published U.S. Navy on April 20, 2021, the Arleigh Burke-class guided-missile destroyer USS The Sullivans (DDG 68), departed Mayport, yesterday, for deployment to participate in HMS Queen Elizabeth (R08) Strike Group.
Follow Navy Recognition on Google News at this link
---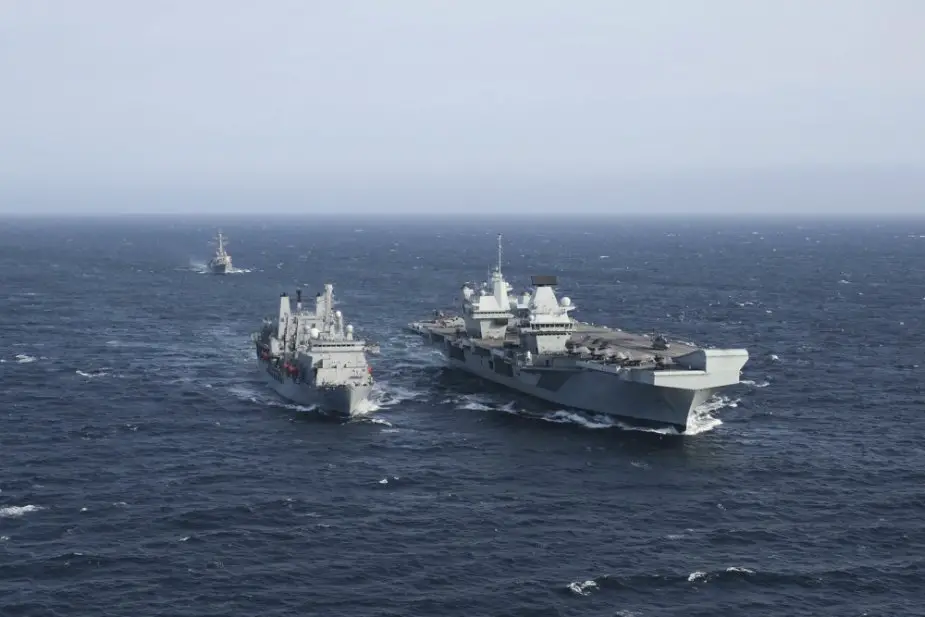 USS The Sullivans sails behind HMS Queen Elizabeth as she conducted her first Replenishment at Sea (RAS) with RFA Fort Victoria in the North Sea (Picture source: U.S. Department of Defense)
---
The inclusion of U.S. forces in the strike group will improve expeditionary capabilities and interoperability between NATO allies, demonstrating the United States' commitment to the NATO alliance.
The Sullivans recently participated in a successful Composite Unit Training Exercise (COMPTUEX) alongside the Iwo Jima Amphibious Ready Group (ARG) and the 24th Marine Expeditionary Unit (MEU) that included a NATO vignette and training with SEALS from an East Coast-based Naval Special Warfare (NSW) Group.
The vignette, developed by Carrier Strike Group Four (CSG 4) and Combined Joint Operations from the Sea Centre of Excellence (CJOS COE), consisted of familiarity training designed to facilitate Allied maritime interoperability and integration, in practical terms using NATO procedures, messaging formats and chat capabilities.
The vignette developed and refined a clear list of interoperability requirements for future Navy force generation, and improved Allied maritime Command and Control (C2) linkages.
In Oct. 2020, USS The Sullivans participated in U.K.-led exercise Joint Warrior 20-2 as part of HMS Queen Elizabeth (R08) Strike Group. The exercise provided pre-deployment opportunities for the international strike group.
U.S. 2nd Fleet exercises operational authorities over assigned ships, aircraft, and landing forces on the East Coast and the Atlantic. When directed, C2F conducts exercises and operations within the U.S. European Command area of operations as an expeditionary fleet, providing Naval Forces Europe an additional maneuver arm to operate forces dynamically in theater.
The USS The Sullivans (DDG-68), is an Arleigh Burke-class Aegis guided missile destroyer. She was commissioned on April 19, 1997, in Staten Island, New York, and is homeported in Mayport, Florida. The ship is named in honor of the five Sullivans brothers, who served together aboard USS Juneau (CL 52) during World War II and lost their lives during the Battle of Guadalcanal on Nov. 13, 1942, when Juneau was sunk by a Japanese submarine.
The USS The Sullivans is armed with one 29 cell, one 61 cell Mk 41 vertical launching systems with 90 × RIM-156 SM-2, BGM-109 Tomahawk or RUM-139 VL-ASROC missiles, two Mk 141 Harpoon Missile Launcher SSM, one Mark 45 5/54 in (127/54 mm) naval gun, two 25 mm chain gun, four .50 caliber (12.7 mm) machine guns, two 20 mm Phalanx CIWS Close-In Weapon Systems, and Mk 32 triple torpedo tubes.
The Arleigh Burke-class also called DDG 51 is a guided missile destroyer that provides multi-mission offensive and defensive capabilities. Destroyers can operate independently or as part of carrier strike groups, surface action groups, amphibious ready groups, and underway replenishment groups.
---