---
According to information published by U.S. Navy on April 26, 2021, Japan Maritime Self-Defense Force destroyer Setogiri (DD 156) operates alongside the aircraft carrier USS Dwight D.Eisenhower (CVN 69) in the Arabian Sea.
Follow Navy Recognition on Google News at this link
---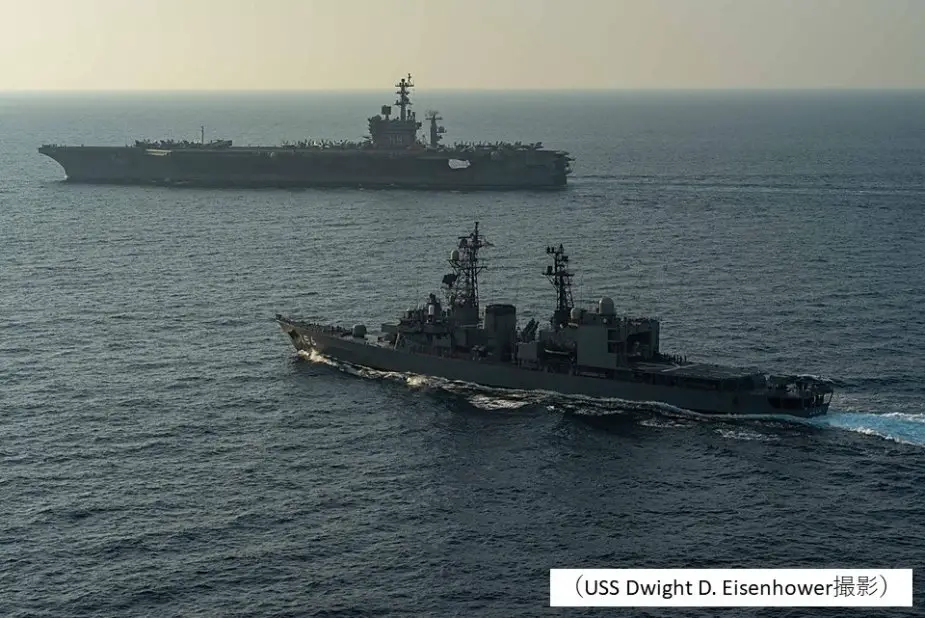 Destroyer Setogiri (DD 156) and the aircraft carrier USS Dwight D.Eisenhower CVN 69 (Picture source: Twitter account of Japan Maritime Self Defense Force)
---
5th Fleet area of operations in support of naval operations to ensure maritime stability and security in the Central Region, connecting the Mediterranean and Pacific through the western Indian Ocean and three strategic choke points.
JS Setogiri (DD-156) is an Asagiri-class destroyer of the Japan Maritime Self-Defense Force.
The Asagiri class is equipped for combat and interception missions, and is primarily armed with anti-ship weapons. They carry two of the Mk-141 Guided Missile Launching System (GMLS), which are anti-ship missile systems. The ships are also fitted to be used against submarines. They also carry Mk-32 Surface Vessel Torpedo Tubes (SVTT), which can be used as an anti-submarine weapon. The ships have two of these systems abeam to starboard and to port. They are also fitted with an Oto-Melara 62-caliber gun to be used against sea and air targets.
They are 137 m (449 ft 6 in) long. The ship has a range of 8,000 nautical miles (15,000 km; 9,200 mi) at 14 knots (26 km/h; 16 mph) with a top speed of 30 knots (56 km/h; 35 mph). The ship can have up to 220 personnel on board. The ship is also fitted to accommodate one aircraft. The ship's flight deck can be used to service an SH-60J9(K) Seahawk helicopter.
---