---
According to information published by Austal USA on June 28, 2021, the company delivered the future USS Savannah, the 14th Independence-variant Littoral Combat Ship (LCS), to the U.S. Navy on June 25. Savannah (LCS 28) is the seventh ship Austal has delivered to the Navy in less than two years highlighting Austal's unique capability in the serial production of ships for the U.S. Navy.
Follow Navy Recognition on Google News at this link
---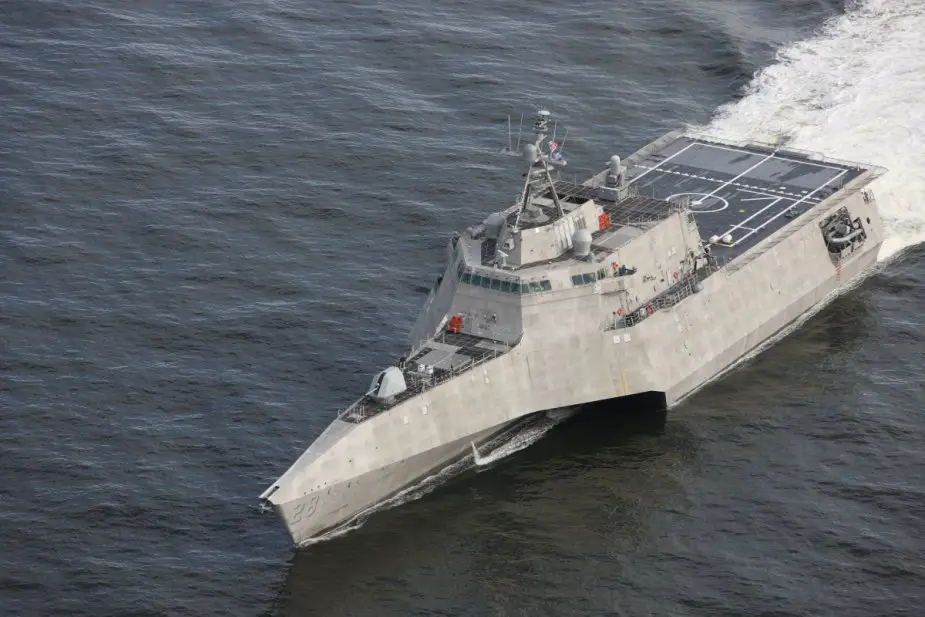 Independence-class littoral combat ship USS Savannah (Picture source: Austal)
---
LCS 28 was completed in just under three years, a full 12-month improvement over earlier ships in the program.
Five LCS and two Expeditionary Fast Transports (EPF) are currently under construction at Austal's Alabama shipyard. Two additional ships, LCS 38 and EPF 15, are under contract and will soon be under construction. Austal USA was recently awarded a design contract for the U.S. Navy's Light Amphibious Warship (LAW) that would be manufactured on Austal USA's new steel construction serial production line.
LCS is a fast, agile, focused-mission platform designed for operation in near-shore environments yet capable of open-ocean operation. It is designed to defeat asymmetric "anti-access" threats such as mines, quiet diesel submarines and fast surface craft. The Independence-variant LCS integrates new technology and capability to support current and future mission capability from deep water to the littorals.
USS Savannah (LCS-28) will be an Independence-class littoral combat ship of the United States Navy.
The Independence-class is a class of littoral combat ships built for the United States Navy.
The ships are 127.4 m (418 ft) long, with a beam of 31.6 m (104 ft), and a draft of 13 ft (3.96 m). Their displacement is rated at 2,176 tons light, 2,784 tons full, and 608 tons deadweight. The standard ship's company is 40, although this can increase depending on the ship's role with mission-specific personnel.
The Independence-class LCS is armed with one BAE Systems Mk 110 57 mm naval gun, one Raytheon SeaRAM CIWS CloseIn Weapon System, four .50-cal machine guns, two 30 mm Mk44 Bushmaster II automatic cannons (part of SUW module), eight RGM-184A anti-ship Naval Strike Missiles, 24 AGM-114L Hellfire air-to-surface missiles (SUW vertical launch module). The ship can accommodate 1 MH-60R/S Seahawk naval helicopter as well as two MQ-8B Fire Scouts or one MQ-8C Fire Scout helicopter VTOL drones.
---