---
According to a tweet published by Mahmoud Gamal on July 23, 2021, the AW149 helicopters of the Egyptian Navy made their first appearance on the ENS Gamal Abdel Nasser during Gargoub Naval Base Inauguration.
Follow Navy Recognition on Google News at this link
---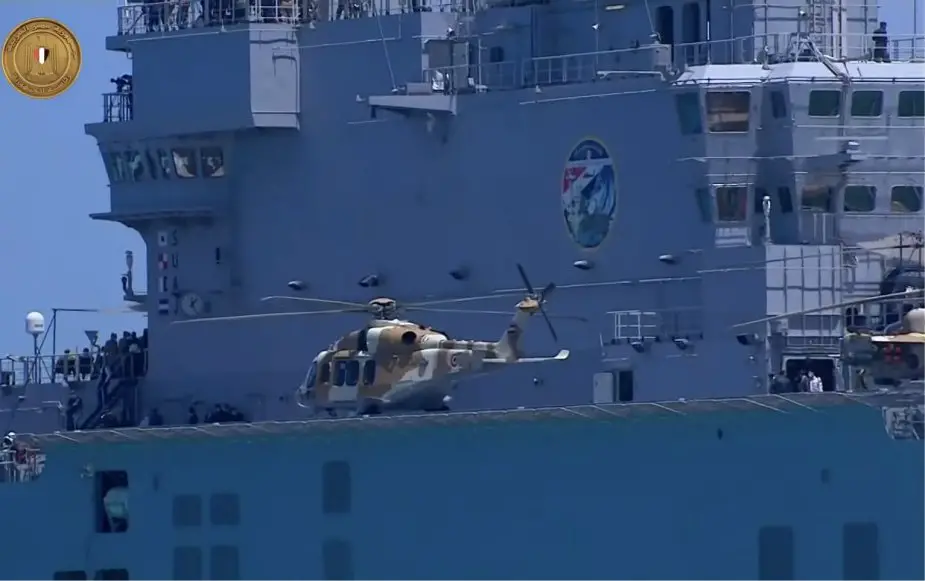 AW149 helicopter on ENS Gamal Abdel Nasser (Picture source: Egyptian Navy)
---
The AgustaWestland AW149 is a medium-lift military helicopter developed by AgustaWestland, now Leonardo.
The AW149 is designed for a multitude of missions such as troop transport; re-supply/external load lift; medical and casualty evacuation; Search and Rescue (SAR) and Combat Search and Rescue (CSAR); special forces operations; close air support/armed escort; Command and Control (C2); and Intelligence, Surveillance and Reconnaissance (ISR).
The AW149 is powered by two 2 000 shp class GE CT7-2E1 turbines which assures superior performance and controllability in extreme hot-and-high environments or harsh conditions, allowing maximum payloads in all challenging operational theatres. The AW149 delivers a cruise speed in excess of 150kts, a maximum range greater than 650 nm (1,200 km) and endurance of up to 5 hours.
ENS Gamal Abdel Nasser (L1010) is an Egyptian Navy amphibious assault ship, a type of helicopter carrier, of the French-designed Mistral class. She was originally built for the Russian Navy and underwent sea trials. Subsequently, the contract was cancelled by France and agreement on compensation reached with the Russian government. Egypt and France concluded the deal to acquire the two former Russian Mistral for roughly 950 million euros.
---