---
According to information published by VnExpress on July 24, 2021, the Vietnam Coast Guard ship CSB 8021 arrived in Vietnam after being in Honolulu, Hawaii. The Hamilton-class former U.S. Coast Guard cutter is the second vessel of this class given to the Vietnam Coast Guard by the United States government.
Follow Navy Recognition on Google News at this link
---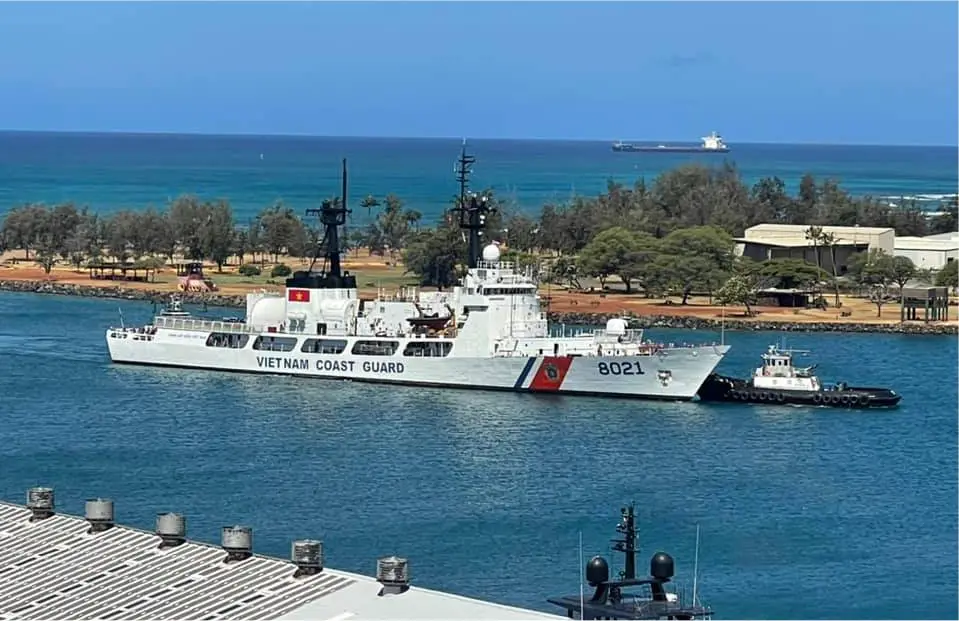 CSB 8021 vessel (Picture source: Vietnamnet)
---
The U.S. Coast Guard officially transferred CSB 8021, formerly JOHN MIDGETT, to Vietnam on August 14, 2020. Since November 1, 2020, the ship's new Vietnam Coast Guard crew has received training on the vessel, its systems, and equipment. The vessel also went through a dry dock maintenance and repair availability to prepare it for its service in the Vietnam Coast Guard, funded by U.S. foreign military financing.
The vessel and transfer support total over $27 million in grant security assistance and follow the 2017 transfer of CSB 8020 to Vietnam, valued around $24 million. CSB 8021 left its former homeport of Seattle, Washington, on June 1, 2021, after completion of outfitting and crew training.
USCGC John Midgett (WHEC-726), previously USCGC Midgett (WHEC-726), was the twelfth and latest of the United States Coast Guard's fleet of 378 ft (115 m) high endurance cutters. With her crew of 24 officers and 160 enlisted men and women, she was homeported in Seattle, Washington under the operational and administrative control of Commander, Pacific Area (COMPACAREA). Prior to Fleet Renovation and Maintenance (FRAM), the Midgett's homeport was Alameda, California.
The Hamilton-class cutter was the largest class of vessel in the United States Coast Guard until replaced by the Legend-class cutter, aside from the Polar-class icebreaker. The hull classification symbol is prefixed WHEC. The cutters are called the Hamilton-class after their lead ship, or the "Secretary class" because most of the vessels in the class were named for former Secretaries of the Treasury.
---