---
According to a picture published by the U.S. Navy on July 23, 2021, Arleigh Burke-class guided-missile destroyer USS Spruance (DDG 111) launches a RIM-66 Standard MR (Standard Missile 2) surface-to-air missile as part of a Live-Fire with a Purpose (LFWAP) exercise. Spruance is currently underway conducting routine operations in the eastern Pacific Ocean.
Follow Navy Recognition on Google News at this link
---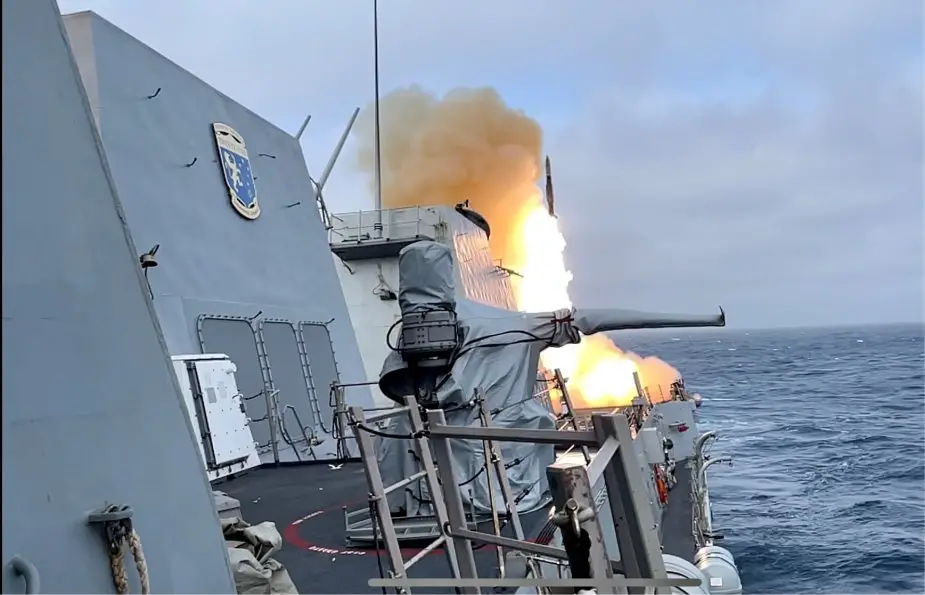 Arleigh-Burke class guided-missile destroyer USS Spruance firing RIM-66 Standard MR surface-to-air missile (Picture source: U.S Navy)
---
The Arleigh Burke-class of guided missile destroyers (DDGs) is a United States Navy class of destroyer built around the Aegis Combat System and the SPY-1D multifunction passive electronically scanned array radar. The class is named for Admiral Arleigh Burke, an American destroyer officer in World War II, and later Chief of Naval Operations. The lead ship, USS Arleigh Burke, was commissioned during Admiral Burke's lifetime.
These warships were designed as multimission destroyers, able to fulfil the strategic land strike role with Tomahawk missiles; antiaircraft warfare (AAW) role with powerful Aegis radar and surface-to-air missiles; antisubmarine warfare (ASW) with towed sonar array, anti-submarine rockets, and ASW helicopter; and antisurface warfare (ASuW) with Harpoon missile launcher.
With upgrades to their AN/SPY-1 phased radar systems and their associated missile payloads as part of the Aegis Ballistic Missile Defense System, the ships of this class have also begun to demonstrate some promise as mobile antiballistic missile and anti-satellite weaponry platforms, operating on 15 ships as of March 2009. Some versions of the class no longer have the towed sonar or Harpoon missile launcher. Their hull and superstructure were designed to have a reduced radar cross-section.
The RIM-66 Standard MR (SM-2MR) is a medium-range surface-to-air missile (SAM), with a secondary role as an anti-ship missile, originally developed for the United States Navy (USN). The SM-2MR introduced inertial and command mid-course guidance. The missile's autopilot is programmed to fly the most efficient path to the target and can receive course corrections from the ground.
---