---
According to a video published by the Royal Australian Navy on October 19, 2021, HMA Ships Warramunga and Brisbane rendezvous with Canadian Navy frigate HMCS Winnipeg to conduct a number of navy-to-navy engagements.
Follow Navy Recognition on Google News at this link
---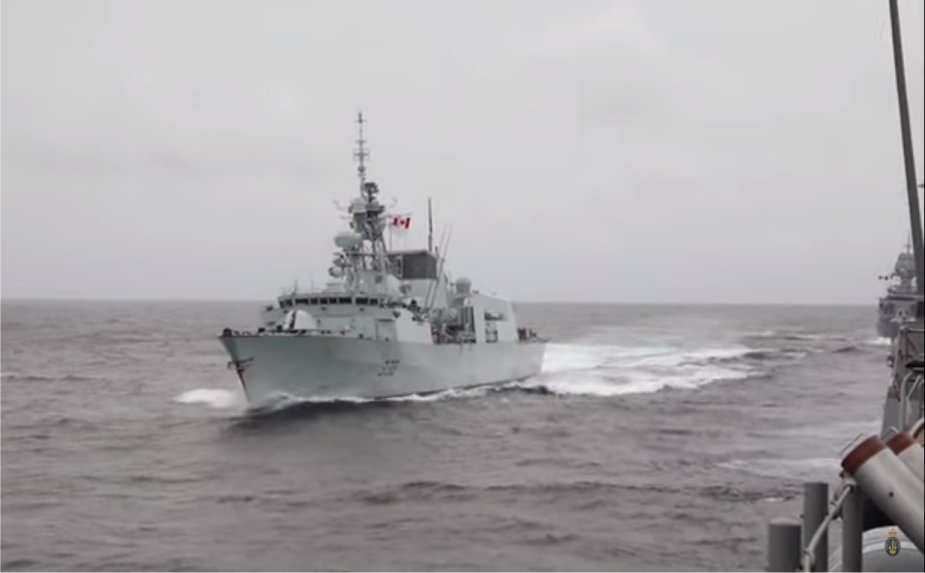 Halifax-class frigate HMCS Winnipeg (Picture source: Royal Australian Navy)
---
HMAS Brisbane (D 41) was one of three Perth-class guided-missile destroyers to serve in the Royal Australian Navy (RAN). The United States-designed ship was laid down at Bay City, Michigan in 1965, launched in 1966, and commissioned into the RAN in 1967. She is named after the city of Brisbane, Queensland.
Based on the United States Navy's Charles F. Adams class, Brisbane had a displacement of 3,370 tons at standard load, and 4,551 tons at full load, a length of 437 feet (133 m) overall and 420 feet (130 m) between perpendiculars, a beam of 47 feet 1 inch (14.35 m), and a maximum draught of 15 feet 3 inches (4.65 m). Propulsion was provided by two General Electric turbines, which provided 70,000 shaft horsepower (52,000 kW) to the destroyer's two propeller shafts.
Brisbane's main armament consisted of a Mark 13 missile launcher firing Tartar missiles and two Ikara anti-submarine missile launchers. This was supplemented by two 5"/54 calibre Mark 42 guns and two Mark 32 triple torpedo tube sets.
---