---
Prototypes of binoculars for observing distant objects and the surrounding area were shown by the Shvabe holding of Rostec State Corporation. The new devices were created in the interests of the Russian Navy.

Follow Navy Recognition on Google News at this link
---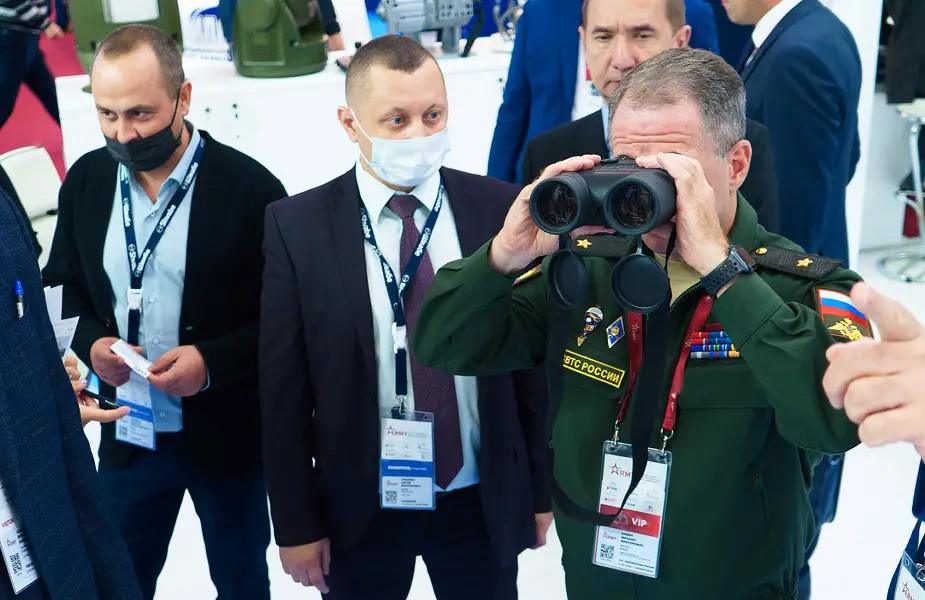 For the first time, prototypes of binoculars were shown at the Army-2021 international military-technical forum in Kubinka (Picture source: Rostec)
---
The Zagorsk Optical and Mechanical Plant (ZOMZ) of the Shvabe holding presented two new products - high magnification binoculars with image stabilization SF 20x50 and small-sized binoculars BPF 8x20.
BSF binoculars are designed for observing distant objects and determining the distance to them by linear and angular dimensions. The stabilization mechanism of the device does not require a power supply, turns on without a time delay and provides the ability to pan at high speed without loss of image quality, including from the movable base.
The FFT binoculars are designed for observing the surrounding area during daylight hours. The device has an eight-fold magnification and separate focusing, which provides increased sharpness and contrast of the image, has a compact size and weighs up to 300 grams. Like binoculars BSF, it determines the distance to objects by their angular dimensions. Due to the coating, the optical and body parts of the FFT are resistant to aggressive media.
"Both optical devices are used in a wide temperature range from -50 to + 70 ° C. Their high-strength and sealed magnesium alloy housing is filled with dry nitrogen. Both devices are made in accordance with the state standard of resistance to external influencing factors, which is applied to marine equipment, "said ZOMZ interim general director Konstantin Pertsev.
The products are currently undergoing preliminary tests. 
---