---
According to a tweet published by the Indian government on August 16, 2022, the Indian Navy's Talwar class frigate INS Tarkash is in Rio de Janeiro to take part in Brazilian bicentennial celebrations.
Follow Navy Recognition on Google News at this link
---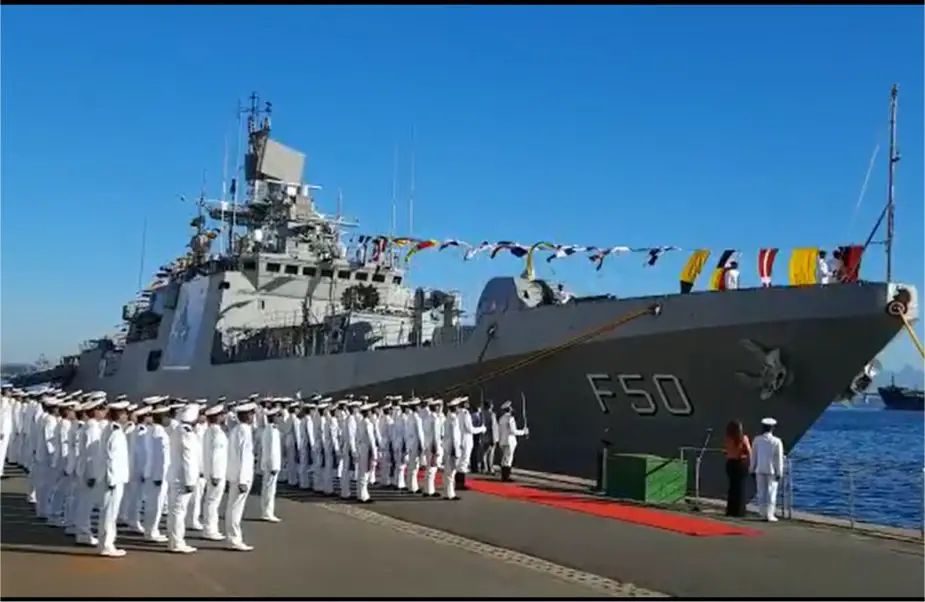 Indian Talwar class frigate INS Tarkash, Rio de Janeiro. (Picture source: Indian Government)
---
INS Tarkash (F50) is the second Talwar-class frigate constructed for the Indian Navy. She is part of the second batch of Talwar-class frigates ordered by the Indian Navy.
She was built at the Yantar shipyard in Kaliningrad, Russia. She was commissioned to Navy service on 9 November 2012 at Kaliningrad and joined the Western Naval Command on 27 December 2012.
Tarkash belongs to the second flight (F45, F50, F51) of the Talwar class of guided missile frigates. These are modified Krivak III-class frigates built by Russia. These ships use stealth technologies and a special hull design to ensure a reduced radar cross-section.
Much of the equipment on the ship is Russian-made, but a significant number of systems of Indian origin have also been incorporated. The main difference between Tarkash and the earlier flight of Talwar-class ships (F40, F43, F44) is the use of BrahMos missiles in place of the Klub-N missiles in the earlier ships. It is the second of the three frigates built in Russia as a follow-up order to the first batch of Talwar-class frigates.
The frigates have a length of 124.8 m (409 ft 5 in), a beam of 15.2 m (49 ft 10 in), and a draught of 4.2 m (13 ft 9 in). They can reach a top speed of 32 knots (59 km/h; 37 mph).
The Talwar class can accommodate one Ka-28 Helix-A antisubmarine helicopter or one Ka-31 Helix-B airborne early warning helicopter which can provide over-the-horizon targeting. The vessel can also embark the navalised variant of the indigenous HAL Dhruv.
---