---
According to information published by the Royal Navy on November 30, 2022, the Hunt-class mine countermeasures vessel HMS Chiddingfold has operated the SEAFOX Inspection Round to conduct a route survey of the seabed below the bright blue waters of the Arabian Gulf.
Follow Navy Recognition on Google News at this link
---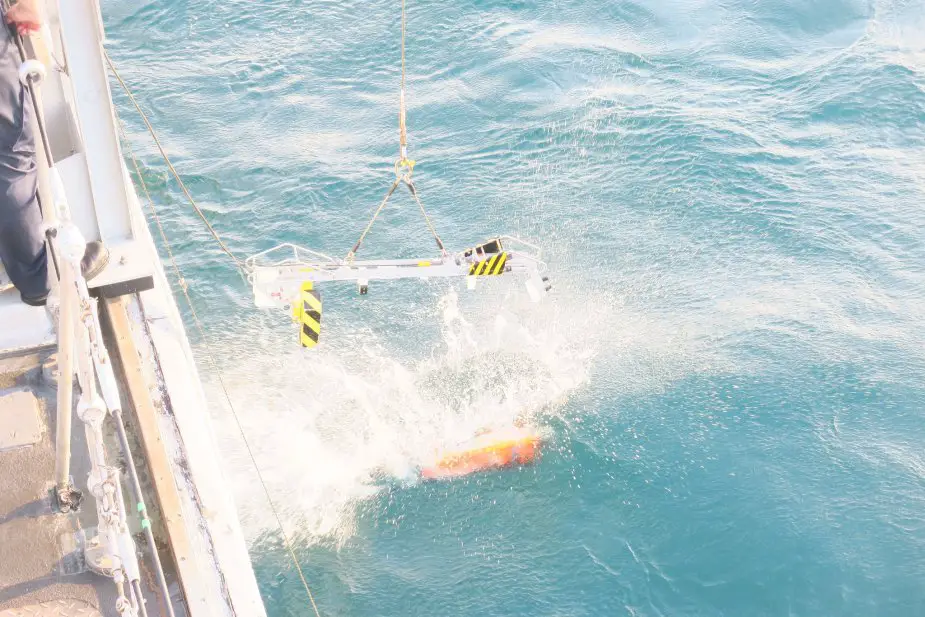 Sailors of the Hunt class MCMV HMS Chiddingfold operating Seafox drone. (Picture source: Royal Navy)
---
HMS Chiddingfold is a Hunt-class mine countermeasures vessel of the British Royal Navy. She was launched in October 1983 by her sponsor, Lady Anne Kennon, and formally entered the service of the Royal Navy in October 1984.
Chiddingfold is able to enter some types of minefields without the mines detonating. This is because she is made of glass-reinforced plastic and all fixtures within the ship are made of non-ferrous metals, keeping the ship's magnetic signature to the bare minimum.
The Hunt class is a class of thirteen mine countermeasure vessels of the Royal Navy. As built, they combined the separate roles of the traditional minesweeper and that of the active minehunter in one hull, but later modifications saw the removal of mine-sweeping equipment. They have a secondary role as offshore patrol vessels.
The MCMVs have a length of 60 m (196 ft 10 in), a beam of 9.8 m (32 ft 2 in), and a draught of 2.2 m (7 ft 3 in). They can reach a top speed of 17 knots ( 31 km/h; 20 mph).
Seafox
The Seafox is an anti-mine remotely operated vehicle (ROV) manufactured by German company Atlas Elektronik to locate and destroy ground and moored mines.
There are two versions and a training version. The orange Seafox-I "inspection" variant has sonar and an Inertial navigation system, and the black Seafox-C "combat" round has a 1.4 kg shaped charge warhead.
---