---
According to information published by the Indian government on September 12, 2022, the fifth Stealth Frigate of P17A, being built at MDL was launched by Smt. Charu Singh, President NWWA (Western Region) named the ship Taragiri.
Follow Navy Recognition on Google News at this link
---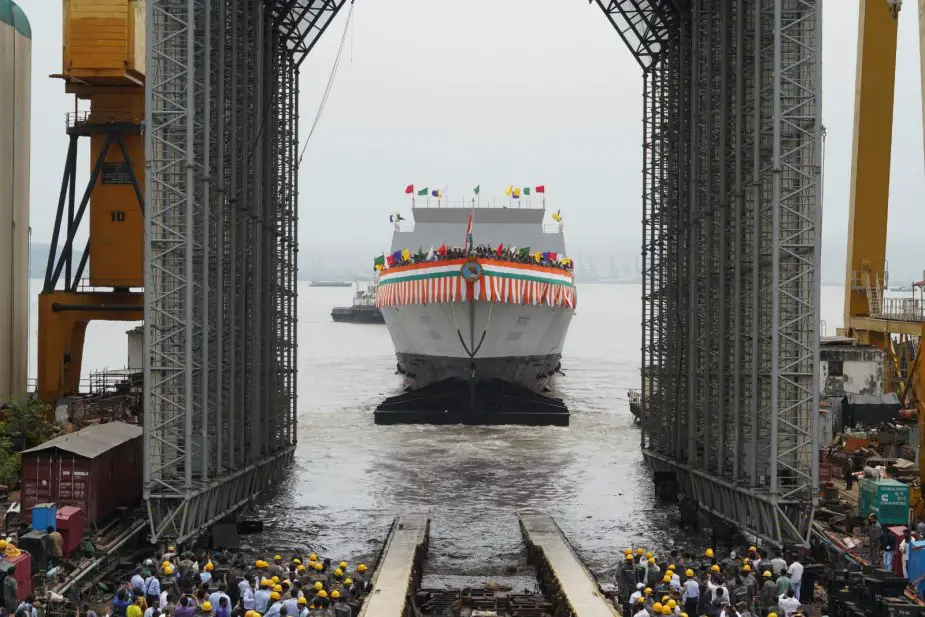 Indian Nilgiri-class frigate Taragiri (Picture source: Indian government)
---
The event was limited to a Technical Launch as the event is tide dependent, any change in the schedule was not possible. Vice Admiral Ajendra Bahadur Singh, Flag Officer Commanding-in-Chief, Western Naval Command was the Chief Guest, VAdm Kiran Deshmukh Controller Warship Production and Acquisition other senior officers from the Indian Navy and MoD were amongst the dignitaries who witnessed the launch ceremony.
The Warship Design Bureau (WDB) and the MDL teams having demonstrated multiple successful conventional launches in the past, have honed their expertise further and performed yet another pontoon-assisted launch with panache.
Following the launch, 'Taragiri' will join its two sister ships at MDL for outfitting activities towards the run up for their delivery to the Indian Navy. Seven P17A Frigates are under various stages of construction at MDL and GRSE.
Indigenous construction of complex frontline ships such as Stealth Frigates has catapulted the nation to a higher pedestal in the arena of shipbuilding. It provides additional benefits such as economic development, employment generation for Indian Shipyards, their sub-contractors and ancillary industry.
Further, 75% of the orders of Project 17A have been placed on indigenous firms including MSMEs, thus reinforcing the country's quest for 'Atma Nirbhar Bharat'.
As part of its anti-surface warfare (ASuW) capabilities, the class features eight BrahMos anti-ship cruise missiles, capable of speeds of up to Mach 3. The BrahMos is widely regarded as one of the most formidable anti-ship missiles currently in service, given the missile's extreme versatility and maneuverability.
The vessels are equipped with one OTO Melara 76 mm naval gun. Originally, the Indian Navy had planned to install the Mk 45 127 mm (5 in) naval gun, manufactured by BAE; however, this plan was later scrapped in 2021 on account of financial constraints.
As part of its anti-air warfare (AAW) capabilities, the class features thirty-two Barak 8ER surface-to-air missiles, with sixteen missiles present in four "2 x 4" VLS configurations – with two placed at the bow and two placed aft.
As part of its anti-submarine warfare (ASW) capabilities, the class features two triple-torpedo launchers for firing ASW torpedoes. The class also features two RBU-6000 (RPK-8) anti-submarine rocket launchers, capable of firing ASW projectiles to depths of up to 1,000 m (3,280 ft 10 in).
Each frigate features two General Electric LM2500 gas turbines – manufactured by GE Aviation and two MAN 12V28/33D STC four-stroke engines – manufactured by MAN Diesel & Turbo – in a combined diesel and gas (CODAG) propulsion configuration.
---