a
World Naval Forces News - Malaysia / France
Royal Malaysian Navy selects DCNS' Gowind corvette for its Littoral Combat Ship (LCS) program
The Gowind frigate, designed by French company DCNS, has been selected for the Royal Malaysian Navy's Littoral Combat Ship (LCS) programme. However, the contract for building the six ships remains on hold due to disagreements between the builder, Boustead Naval Shipyard Sdn Bhd (BNS), and the end user RMN, according to people familiar with the programme.

One of the key sticking points is BNS and DCNS's insistence that the ships adopt the SETIS combat management system (CMS) designed by the French company.

RMN instead wants another system developed by Thales, the Tacticos, being integrated into one of its vessels, KD Kasturi.

The navy had hoped to reduce the number of CMS in its fleet to reduce training and support issues. RMN chief Tan Sri Abdul Aziz Jaafar told theSun yesterday that the government had chosen the Gowind design for the LCS programme.

He declined to confirm or deny speculation that the contract would only be signed when the RMN was satisfied that its requirements were met. He, however, confirmed most of the specifications for the ship had been finalised.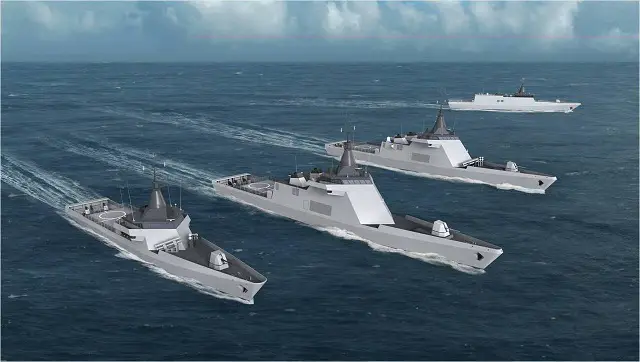 DCNS Gowind range of corvettes
(picture: DCNS)
BNS managing director Tan Sri Ahmad Ramli Mohd Nor, however, denied the delay was due to disagreement with the end user.

"It is up to the government. We are ready to go forward," said Ahmad Ramli, a former RMN chief.

Despite the delay, BNS is displaying a model of the Gowind frigate at the Langkawi International Maritime Aerospace exhibition here. The frigate is 107m-long with a displacement of 2,750 tonnes.

It will be armed with a 57mm gun, surface-to-air missiles and torpedoes. With four diesel engines, the ship will have a top speed of 29 knots. theSun had reported on Tuesday that the widely speculated deal for six LCS would be delayed until next year.
DCNS Gowind "Combat" class scale model shown during Navdex 2011
(picture: Navy Recognition)
A report published in the Janes Defence Weekly stated that the Malaysian government was likely to postpone defence procurement in view of the general election, which could be held early next year.

The LCS contract has been in news since February after Defence Minister Datuk Seri Ahmad Zahid Hamidi announced that the government had awarded BNS a RM6 billion contract to build six LCS or Second Generation Patrols Vessels for the RMN.

The announcement caused an uproar as critics claimed the price of the ships were inflated.
From: The Sun Daily