a
World Naval Forces News - Taiwan
Taiwan giving up on US made submarines, considering local production
Taiwan has all but given up on acquiring diesel-electric submarines from the US and is expected to embark on a domestic program with assistance from abroad, a leading defense analyst told the Taipei Times. Longstanding plans to augment Taiwan's small and aging submarine fleet gained momentum in 2001, when the administration of US president George W. Bush offered to provide eight diesel-electric submarines to Taiwan for about US$12 billion.

With efforts going nowhere, in 2003 the Pentagon suggested that Taiwan consider buying refurbished submarines from Italy, and Rome reportedly agreed to sell four Nazario Sauro-class boats and an additional four following their decommissioning by the Italian Navy. However, Taipei rejected the offer, saying it wanted new submarines.

As a result of political wrangling in Taiwan's legislature, moves by the Chinese Nationalist Party (KMT) and the US to appease Beijing amid efforts at cross-strait reconciliation, and pressure from China on Washington, Bush's deal never materialized.

During a meeting with American Institutes in Taiwan Chairman Raymond Burghardt in January, President Ma Ying-jeou reiterated Taiwan's desire to acquire submarines from the US, which some analysts interpreted as a sign of renewed commitment. Despite this, the arms package announced to the US Congress by US President Barack Obama in October did not include submarines or even a feasibility study.

Another problem that has haunted the sale is the fact that the US has not produced diesel submarines since the 1950s.

This could be about to change, with a US defense analyst familiar with the Taiwanese military saying he feels positive the navy will move ahead on the submarine program in the not-so-distant future.

Mark Stokes, executive director at the US-based Project 2049 Institute and a vocal proponent of a submarine program for Taiwan, said the Ministry of National Defense had given up on acquiring submarines from the US and had decided to launch an indigenous program with foreign assistance.

Military sources claim that research on submarine building has been launched and that the navy is trying to acquire production know-how from abroad.

The ministry has reportedly commissioned a local shipbuilder to contract a country other than the US capable of building submarines for cooperation in building non-nuclear-powered boats.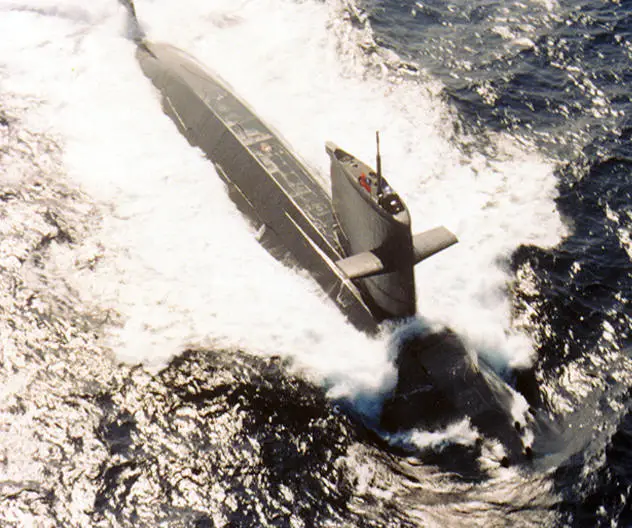 Hai Lung class submarine currently in service with the ROC Navy
(picture: ROC Navy)
The Naval Shipbuilding Development Center under Navy Command has been very busy studying the blueprints of the navy's two Hai Lung-class submarines — Taiwan's only combat-ready subs — which were acquired from the Netherlands in the late 1980s.

Naval authorities are also reportedly readying to send personnel abroad to study production technology or negotiate technology transfers for building pressure-resistant hulls, which sources say is the most challenging aspect in building submarines.

Stokes said a good number of countries have the capabilities sought by Taiwan.

In the initial stage, the navy could limit its domestic program to small subs in the hundreds of deadweight tonnage, the report said.

Weighing in, James Holmes, an associate professor of strategy at the US Naval War College, told the Taipei Times that Taipei was right to give up on the US as a supplier of submarines, as this was never going to happen.

"Anti-submarine warfare is a People's Liberation Army Navy Achilles' heel," he said, adding that "in the abstract a Taiwanese submarine force would be ideal."

However, this would be a very long-term project whose outcome remains uncertain, Holmes said.

"The general concepts are well known, but there are countless intricacies to converting a design on paper to a real fighting implement," he said. "There is no substitute for actually going through the learning process of designing, building and operating complex platforms."

Holmes nevertheless believes Taiwan should focus instead on small craft analogous to China's Type 022 Houbei fast attack missile boat, which in his view would be a better investment, and come without the delay and uncertainty involved in fielding a proven submarine design.

"If I were advising President Ma or his successor, I would advise them to put the island's finite resources into platforms that Taiwanese shipwrights know how to build, that can be at sea in the relatively near future and that Taiwan navy crews have some experience operating," he said.
From: Taipei Times