a
World Naval Forces News - France
French Navy (Marine Nationale) receives 25 new MU-90 torpedoes
Operational in France since February 2008, the MU90 is intended to be deployed by aircraft and warships such as Atlantique 2 maritime patrol aircraft, Lynx helicopters, frigates and Horizon destroyers for current platforms. MU90 torpedoes will ultimately be deployed by CaÏman helicopters (NH90) and FREMM.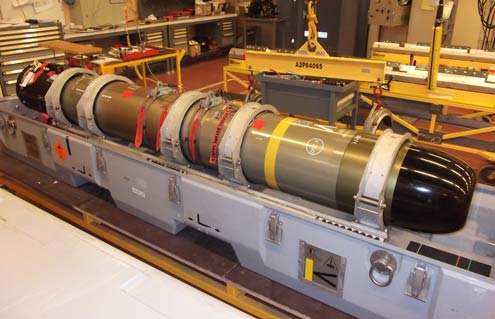 MU90 Torpedo
(picture: DGA)
The MU90 is a third generation torpedo used for anti-submarine warfare. It was designed to counter the threat of conventional or nuclear propulsion submarines in any environment or scenario. The MU90 can be used in deep immersion (several hundred meters) or very shallow waters (less than 25 m). It uses an electric propulsion mode for increased endurance, performance and security. It hosts a very powerful shaped charge that maximizes the blast and a new generation mission software.

The main contractor of the MU90 is the EEIG (European Economic Interest Grouping) Eurotorp composed of DCNS 26%, Thales 24% and WASS (Finmeccanica group) and 50%.