a
Naval Industry News - France / Russia
Mistral for Russia: the third and fourth LHD will be built in Sevmach shipyard, Severodvinsk
The hulls of the third and fourth Mistral type French helicopter carrier, command and landing ship purchased by Russia will be built by Russian shipyard Sevmach in Severodvinsk (north), announced Wednesday the Russian Minister of Defense Serdyukov Alexander.

"It's the French shipbuilder to decide where to start preparations for the construction of the ships. . Sevmach plant is the best candidate, it will be easier and shorter" said the minister in an interview with Rossiyskaya Gazeta newspaper to published on Thursday.

The CEO of the Russian arms exporter Rosoboronexport, Anatoly Issaïkine said in September that third and fourth vessels would be manufactured 80% in Russia and 20% in France.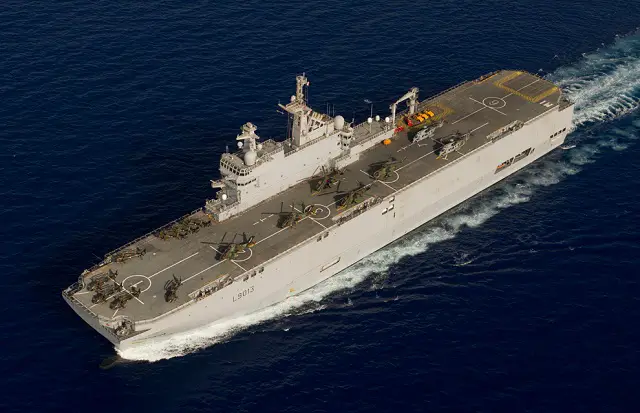 DCNS Mistral class used by the French Navy and soon by the Russian Navy
(picture: French Navy)

However, Russia and France should first agree on the price, Moscow wishes to acquire the third and fourth vessels Mistral type at a reduced price, according to Minister Serdyukov.

The first two ships of this class for the Russian Navy will be built in France for 1.2 billion euros. Under a contract signed last June with French shipbluider DCNS, the first ship will be delivered in 2014 and 2015 for the the second. In early December, the French company DCNS announced that it had received a deposit and was ready to start construction.

With a length of 199 meters, a displacement of 22,000 tons and a speed exceeding 18 knots, projection and command vessel Mistral is capable of carrying six helicopters, four landing barges and two air cushion ships of low tonnage. Russia plans to deploy eight Ka-52K and eight Ka-29 helicopters. The ship can carry, in addition to its 160 crew members, a commando of 450 men.