a
World Naval Forces News - USA / UK
U.S. Navy and Royal Navy future SSBNs to get Common Ballistic Missile Compartments
The U.S Navy has awarded General Dynamics Electric Boat a $191.3 million contract modification to continue concept studies, engineering and design of a Common Missile Compartment for the United Kingdom's Successor ballistic-missile submarine and the U.S. Ohio replacement submarine. Electric Boat is a wholly owned subsidiary of General Dynamics.

The award modifies a contract announced in December 2008 for engineering, technical services, concept studies and design of a Common Missile Compartment for the next-generation ballistic missile submarines under development for the Royal Navy and the U.S. Navy.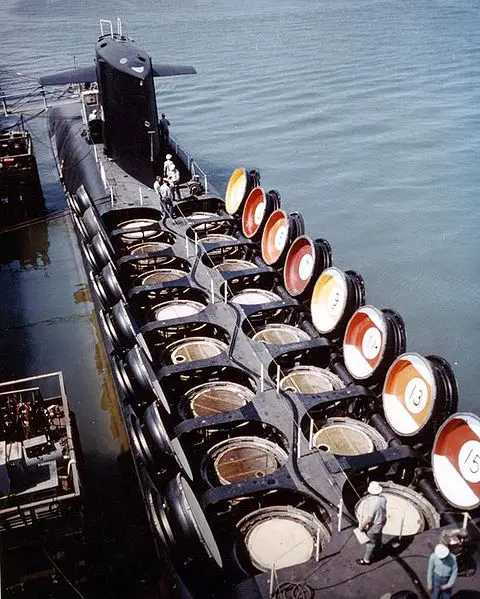 A US Navy SSBN seen with all its missile tubes hatches opened
(picture: US Navy archives)
If all options are exercised and funded, the overall contract will have a value of more than $708 million.

This work will engage Electric Boat's engineering and design organization, which comprises more than 3,000 employees. Possessing proven technical capabilities, these employees work on all facets of the submarine life cycle from concept formulation and design through construction, maintenance and modernization, and eventually to inactivation and disposal.

The two future class of SSBNs (one for U.S Navy, one for the Royal Navy) will reportedly carry just 12 launch tubes each, as opposed to the current Ohio SSBNs' 24, or the Vanguard SSBNs' 16. Each tube will be widened to about 3 meters for potential flexibility beyond nuclear missiles such as deployment of cruise missiles, UAV, UUV...