a
World Navy Force News - Benin/Nigeria
Benin, Nigeria launch joint patrols to stop piracy surge
COTONOU — Benin and Nigeria launched joint sea patrols Wednesday to tackle a surge in piracy that has raised alarm in the shipping industry, with attacks seeing crews held hostage and fuel stolen. About 100 military members from the two West African countries at the naval base in the Benin economic capital Cotonou embarked on three patrol boats and four fast-attack craft from the Nigerian army for the patrols.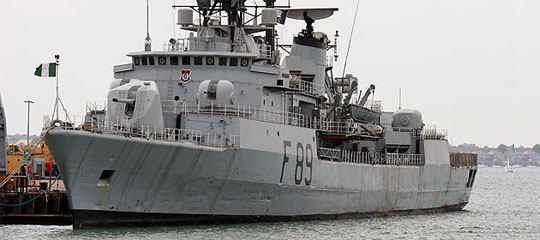 Nigerian Navy Frigate Aradu F89 (Meko 360H1 type)
(picture: Nigerian Navy)
They will also include a support ship equipped with a radar and helicopter.

The initiative, branded "Operation Prosperity", is expected to last six months, by which time Benin is supposed to have acquired the means to supervise its territorial waters, a Benin navy source said.

The coast of Benin, which neighbours Nigeria, Africa's largest oil producer, has seen at least 19 piracy incidents this year compared to none last year. Piracy has long been a problem off Nigeria.

Benin, with a population of some nine million, is much smaller than Nigeria, the continent's most populous nation of some 150 million people.

The joint patrols "are not aimed primarily at arresting the sea pirates but to prevent them from attacking the ships", Benin Navy Chief of Staff Maxime Ahoyo told AFP.

Nigerian navy director of operations, Vice Admiral Bola Ajibade, said that the exercise seeks "to secure by all means the maritime environment".

Two weeks ago, pirates seized a Cyprus-flagged tanker with 23 crew on board off the coast of Benin.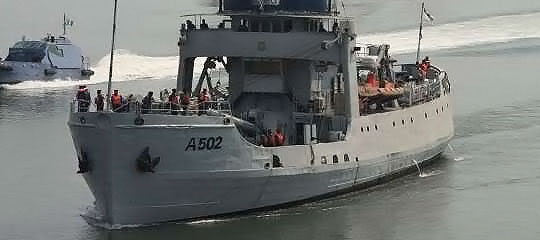 Nigerian Navy auxiliary vessel Ologbo A502 (ex-USCGC Cowslip)
(picture: Nigerian Navy)
According to Spanish media -- the crew included Spaniards -- and the tanker was freed once the pirates had left the ship after unloading its cargo of oil.

Unlike the explosion of piracy off the coast of Somalia on the eastern side of the continent in recent years, those involved in the recent West African attacks have so far not appeared to be after ransom payments.

Following increased attacks, Benin ordered for two sea patrol aircraft, Ahoyo said, while a maritime source, on cover of anonymity, said that the small west African nation is also expecting three patrollers, the first of which should be delivered in January.

A radar surveillance centre is also expected to be established in Grand-Popo (southwest), near Benin's border with Togo.

Benin is afraid of the impact that piracy could have on its economy, a source in the presidency told AFP.

"At this pace, if nothing is done, ship owners will boycott Cotonou port which accounts for 90 percent of exchanges with foreign nations. This justifies the determination of the head of state" to secure the Benin port, the same source said.

Fuel or oil cargo has been stolen for sale on the region's lucrative black market, while robberies have also occurred. Crew members have been beaten and the pirates tend to be heavily armed.

Two analysts said last month that a relatively organised gang from Nigeria seemed to be the prime suspect in the attacks.

The maritime bureau has warned that the spate of ship attacks off West Africa indicates the region could emerge as a new piracy "hotspot".
From: AFP