a
Naval Defense Industry News - USA
Lockheed Martin, Raytheon Demonstrate SEWIP Electronic Attack Capability for US Navy at RIMPAC
A Lockheed Martin and Raytheon Company team has demonstrated its potential electronic attack solution for the U.S. Navy's Surface Electronic Warfare Improvement Program (SEWIP) during
the multinational Rim of the Pacific (RIMPAC) maritime exercise near Hawaii
.
The team's potential electronic attack solution went to sea aboard Lockheed Martin's mobile Integrated Common Electronic Warfare System test bed to demonstrate proposed improvements to the fleet's capability to electronically attack anti-ship missiles, in advance of a Navy competition later this summer.
"Following our highly successful land-based testing earlier this year, RIMPAC presented the perfect opportunity to test our proposed SEWIP Block 3 solution in operational scenarios with the fleet," said Joe Ottaviano, SEWIP program director at Lockheed Martin's Mission Systems & Sensors business. "We've continued the same disciplined, enterprise approach to developing this upgrade that has been so successful for Block 2, backed by more than 80 years of combined, proven experience developing electronic systems to defend the fleet."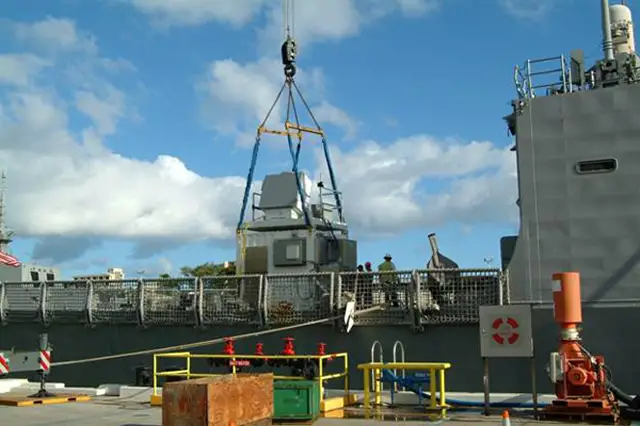 The Lockheed Martin-Raytheon team's proposed SEWIP Block 3 solution at RIMPAC.
(Picture: Lockheed Martin)
"At-sea demonstration of our full suite of electronic attack capabilities is an important next step in the development of the Lockheed Martin-Raytheon potential SEWIP Block 3 offering," said Michael Baladjanian, Tactical Airborne Systems director, Emerging Programs, for Raytheon Space and Airborne Systems. "The lessons we learn from the RIMPAC exercises will be used to further enhance our SEWIP Block 3 offering and help provide a lower risk solution to the Navy."

SEWIP is an evolutionary development of block upgrades to the AN/SLQ-32 electronic warfare system installed on all U.S. aircraft carriers, cruisers, destroyers and other warships to improve anti-ship missile defense, counter targeting, and counter surveillance activities.

The Lockheed Martin-Raytheon team completed thorough land-based integration and test activities of its SEWIP Block 3 solution earlier this year in a realistic, simulated environment at Lockheed Martin's new $3.5 million electronic warfare test facility in Syracuse, N.Y.

The Navy competitively awarded Lockheed Martin the SEWIP Block 2 contract in November 2009 to upgrade the passive detection capabilities of the fleet's AN/SLQ-32 systems and establish a framework to easily install future upgrades. The company held a successful critical design review in February 2011 and is now integrating and testing its SEWIP Block 2 solution on two engineering development models.

Developed by Raytheon in the 1970s, the original AN/SLQ-32 systems employed passive radar technology for early warning, identification and tracking of enemy threats. Subsequent upgrades provided an additional active capability for simultaneous jamming of multiple threats.