a
Naval Industry News - France, Russia
Russia's Baltic Shipyard United Shipbuilding Corporation (OCK) Starts Metal Cutting for Mistral

Russia's Baltic Shipyard has started metal cutting for the hull of the first
Mistral class amphibious assault ship
being built in France for the Russian Navy, the United Shipbuilding Corporation said on Wednesday.
Russia and France signed a $1.2-billion contract on two French-built Mistral class ships, including the transfer of sensitive technology, in June 2011.
Under the contract, STX France will carry out the final assembly of the hulls from 24 blocks produced in Russia.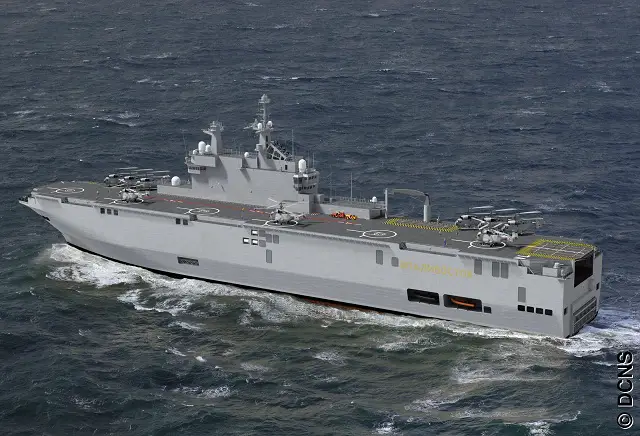 DCNS is supplying two BPC-type projection and command vessels to Russia under a contract that came into effect at the end of 2011.
(Picture: DCNS)
STX France handed over in July the first batch of technical documentation on the Mistral project to Russian subcontractor Admiralty Shipyards.

The Baltic Shipyard had to adapt its capacity to the specific requirements of the French project.

The first ship, the Vladivostok, is expected to be delivered in 2014 and the second in 2015. Two more ships are expected to be built in Russia.

A Mistral-class ship is capable of carrying 16 helicopters, four landing vessels, 70 armored vehicles, and 450 personnel.

The Russian military has said it plans to use Mistral ships in its Northern and Pacific fleets.