a
Naval Forces News - Russia, Syria
Russia sending three landing ships to Syria base

Russia sent three large landing ships, with soldiers on board, bound for its naval base in Tartus, Syria, reported today Russian news agencies quoted a member of the General Staff.

Each vessel would count up to 120 soldiers. Currently in the Mediterranean Sea, they should arrive in Tartus at the end of this week, according to this source, who did not specify the purpose of this mission. Russia has however said that mid-June it was preparing to send marines in Syria in case it needs to protect its staff and equipment to repatriate its naval maintenance facility.

Russia has a maintenance and repair facility at Tartus, manned by fewer than 100 personnel.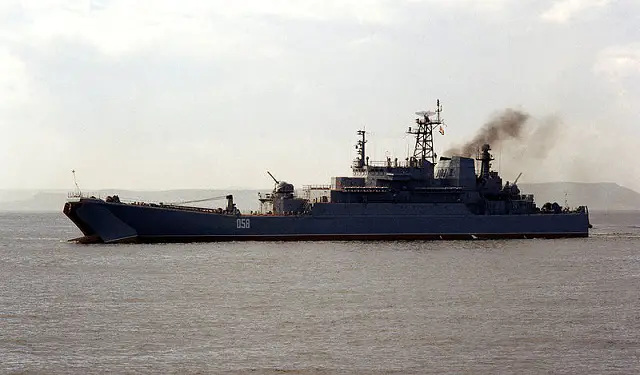 Ropucha class landing ship
(Archive Picture: US Navy)
The landing ships sent by Moscow are probably Ropucha class (Project 775) tank landing ships.

Designed to sea-lift a landing force and land it on enemy coast, Ropucha class large landing ships are roll on - roll off type vessels with a 540 square meter tank deck extending through the entire length from the bow to the stern ramp.

The ships were produced from 1974 to 1991 in two series: Project 775 (12 ships) and Project 775.III (16 ships).

Basic characteristics:
Displacement (tons): 2,200 tons standard / 3,200 tons full load
Speed (kts): 16-18 knots
Dimensions (m): 112.5 x 15 x 3.7
Endurance: 30 days
Range: 6000 nm at 12 knots
Crew: 98
Military lift: 482 tons, approx 150 troops, 10 tanks with crew
Weapons:
-Strela-3M SAM (32 missiles, 4 launchers)
-2x AK-725 57mm guns or 2x AK-176 76mm guns
-2x 120mm Grad-M artillery launchers (320 rockets)