a
Naval Forces News - USA
V-22 Osprey supports Harry S. Truman aircraft carrier flight deck certification
When a V-22 Osprey from Marine Tiltrotor Operational Test and Evaluation Squadron (VMX) 22 landed for the first time on USS Harry S. Truman (CVN 75) on July 19, it highlighted another in a series of firsts for the unique tilt-rotor aircraft that has become an integral part of the U.S. naval forces.

And although the July 19 landing was a first for a V-22 on Truman, it wasn't the first time for an aircraft carrier, nor, according to Cmdr. Sean McDermott, the V-22 Joint Program Office (PMA-275) Navy integrated production team lead, will it be the last.

"The Marine Corps has committed to providing V-22s to support CVN flight deck certifications," McDermott said, adding that one of the goals of Navy leadership is to incorporate V-22s into the aircraft-carrier flight-deck certification process as often as possible.

"It won't be long before each carrier has had V-22s on board," he said.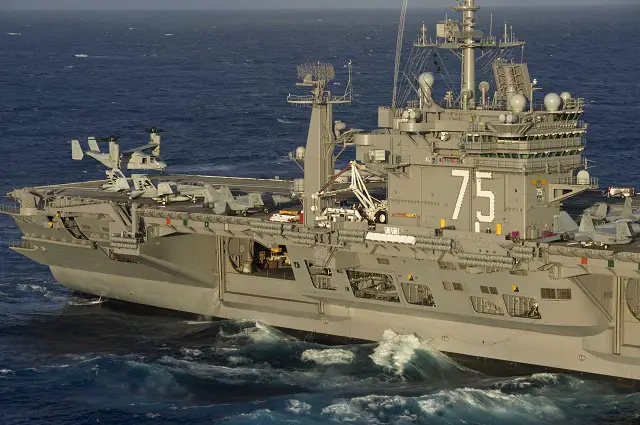 An MV-22 Osprey assigned to the Argonauts of Marine Tiltrotor Operational Test and Evaluation Squadron (VMX) 22 lands on the flight deck of the aircraft carrier USS Harry S. Truman (CVN 75) on July 19. This is Truman's first Osprey recovery. Truman is underway conducting carrier qualifications. (U.S. Navy photo)

In March, Ospreys supported flight-deck certification with USS George H.W. Bush (CVN 77) and returned to the ship two months later to perform dynamic interface testing to gather data to expand the V-22's current flight envelope, McDermott said.

In addition to this past spring's CVN integration operations, McDermott said a V-22 recently played a role in a deployed aircraft carrier's logistics mission.

"In July, USS Abraham Lincoln (CVN 72) was operating in the Arabian Sea and had about 3,000 pounds of perishable goods needing to be delivered to USS Iwo Jima (LHD 7)," McDermott said. "(Iwo Jima) was about 250 nautical miles away from the Lincoln and helicopters couldn't travel to Iwo in the appropriate amount of time, so they requested a V-22 from the Marines on the Iwo Jima."

The Osprey, from Medium Tiltrotor Squadron 261 (VMM-261), landed on Lincoln, loaded the cargo and six passengers and was airborne in less than 25 minutes. A fairly routine mission, but noteworthy because it involved a carrier, McDermott said.

"V-22s provide support for the MEU (Marine Expeditionary Unit) and amphibious warships all of the time, this logistics mission only scratches the surface of the aircraft's potential for the U.S. Navy."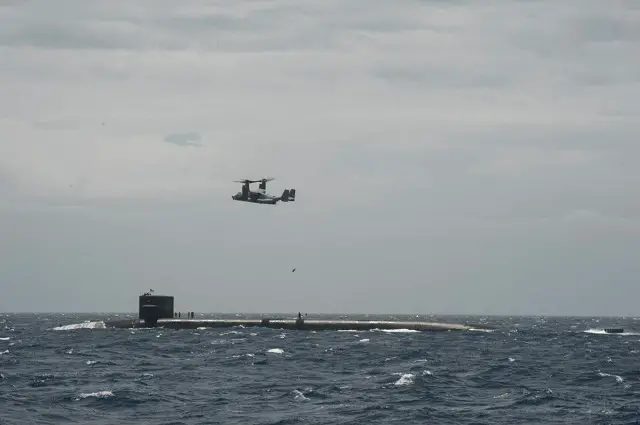 A V-22 Osprey from Air Force Special Operations Command prepares to perform a proof of concept for personnel evacuation from the Ohio-class ballistic missile submarine USS Wyoming (SSBN 742) on June 6. Wyoming is at sea performing routine operations.
(U.S. Navy photo)

In addition to this logistics support function, the V-22 is also uniquely suited for the medevac mission, McDermott said. This was shown in June, when an Air Force V-22 successfully demonstrated an evacuation from an Ohio-class ballistic missile submarine off the southeast coast of the United States.

The V-22 traveled from Cannon Air Force Base, N.M., to the surfaced submarine USS Wyoming (SSBN 742), a distance of more than 1,300 miles.

While hovering above the submarine, the aircraft lowered a hoist line and simulated evacuating a submarine crewman strapped into a Stokes rescue stretcher. The Osprey then returned to its base in New Mexico.

"It was a pretty awesome experience," said Air Force Capt. William Thompson, the V-22 pilot who flew the mission. "It really is a great aircraft, versatile, flexible and a blast to fly." Thompson is a member of the 20th Special Operations Squadron, part of the 27th Special Operations Group at Cannon.

"This medevac demonstration was just one example of the myriad missions the V-22 is capable of completing," said Marine Col. Greg Masiello, head of the V-22 Joint Program Office at Naval Air Systems Command.

"[June 6th's evolution] demonstrated one of the unique capabilities the Osprey brings to a commander's playbook -- the ability to go farther, faster and safer than any other medevac vertical takeoff and landing (VTOL) aircraft," Masiello said. "These capabilities can and will be instrumental in saving lives."

A fact not lost on Wyoming's commanding officer.

"It's nice to know the U.S. Navy, working with our joint partners, has the capability to rapidly evacuate critically injured Sailors without negatively impacting the strategic mission," said Cmdr. Chris Nash, USS Wyoming's commanding officer.

While some of the details and location of the June 6 demonstration are classified, Nash said he was impressed that in spite of wind gusts of 30 knots and heavy seas, the Osprey remained stable above the submarine, without so much as a shiver from the wind.

"This was excellent training for my Sailors," Nash said. "[This evolution] highlighted the unique capabilities of this transformational aircraft and proved synergy possible when leveraging two of the most capable platforms in the Joint Forces."

From: Naval Air Systems Command