a
Naval Defense Industry News - USA
Second US aircraft carrier reaches Persian Gulf area: Pentagon
A second US aircraft carrier has arrived in the Gulf region, the Pentagon said , calling the move "routine" and denying any link to mounting tensions with Iran. Backed by a cruiser, destroyer and with almost 80 planes and helicopters on board, the USS Carl Vinson carrier strike group "arrived in the US 5th Fleet area of responsibility (AOR)" on January 9," a Fifth Fleet statement said.

That area covers the Gulf, the Red Sea, the Gulf of Oman and parts of the Indian Ocean.

Pentagon spokesman John Kirby told reporters that the Carl Vinson was "not in the Gulf" and had not gone through the Strait of Hormuz — a key oil route which Iran has threatened to close as tensions with the West flare.

The Carl Vinson was due to relieve another aircraft carrier, the USS John Stennis, which is in the region, Kirby said.

"Her deployment in that area is routine, long-planned — there's nothing unusual about that," Kirby explained.

"The numbers of carrier strike groups attached to the Centcom AOR change all the time and it's been consistently that way," he said.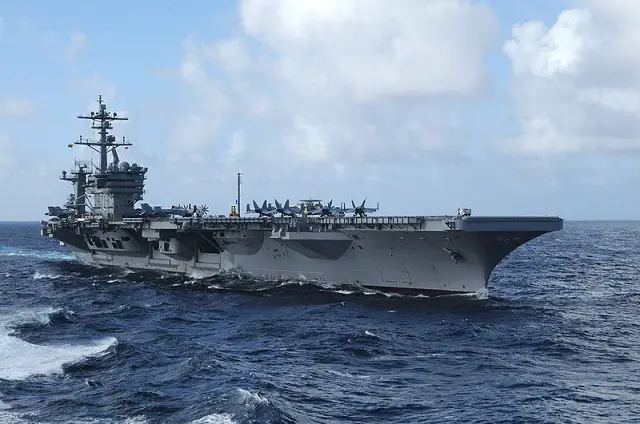 USS Carl Vinson (CVN-70), archive photo
(Picture: US Navy)
"The fact that there are two carriers in that AOR is not an indication of anything specific in respect to Iran," the spokesman stressed, insisting: "There is no change to force posture in the region."

Despite the Pentagon's denials of a build-up in the region, the USS Abraham Lincoln was in the Indian Ocean and en route to join the Carl Vinson, according to the US Navy.

International confrontation over Iran's nuclear program has grown more tense as threats and counter-threats are being increasingly backed with displays of military muscle.

Western nations, with the United States at the fore, are steadily ratcheting up sanctions on Iran with the aim of fracturing its oil-dependent economy.

Iran has responded by saying it could easily close the Strait of Hormuz — a chokepoint for 20 percent of the world's tanker-carried oil at the entrance to the Gulf — if it is attacked or if sanctions halt its petroleum exports.

It has also threatened to unleash the "full force" of its navy should the United States redeploy an aircraft carrier to the Gulf, where the US Fifth Fleet is based.

Washington said closing the strait is a "red line" that should not be crossed and said it would keep sending warships to the region.
From: AFP