a
Naval Forces News - USA
US Navy Squadrons Team Up For E-2D Advanced Hawkeye Evaluation
Air Test and Evaluation Squadron (VX) 1 combined forces with Carrier Airborne Early Warning Squadron (VAW) 120 to bring a joint detachment to Naval Air Station Jacksonville Jan. 16, to help meet its schedule for the E-2D Hawkeye Initial Operational Test and Evaluation.

The squadrons are conducting four weeks of operational evaluations in conjunction with the USS Enterprise (CVN 65) Composite Training Unit Exercise (COMPTUEX) and Joint Task Force Exercise (JTFEX) underway in the Atlantic Ocean.

The new Northrop Grumman E-2D Hawkeye is the Navy's latest carrier-based airborne early warning, battle management command and control system that works in concert with surface ships equipped with the Aegis combat system.

"The Hawkeye is highly valued by admirals who want to know what friends and foes are in the vicinity of their carrier strike group. Where naval surface ship surveillance systems like Aegis can only see as far as the horizon, VAW aircraft fly above the curvature of the earth to provide the strike group's command and control leadership with a more expansive look of potential battle spaces," said Officer-in-Charge Lt. Cmdr. Dave Champaigne of VAW-120.

VX-1 E-2D Operational Test Director Lt. Cmdr. Greg Harkins said, "The new E-2D Advanced Hawkeye is able to scan a larger area, detect smaller targets, process data about those targets faster, and transform all of that information into improved situational awareness for strike group leadership."

Champaigne said, "This is an unusual mission for VAW-120. We're glad to assist our brethren at VX-1 and help keep the fleet introduction of the E-2D on schedule."

VAW-120, based at Naval Station Norfolk Chambers Field, is the fleet replacement squadron (FRS) for the E-2C and E-2D Hawkeyes, and the C-2A Greyhound. The FRS is responsible for training pilots, naval flight officers (NFOs) and maintenance personnel for fleet operational squadrons.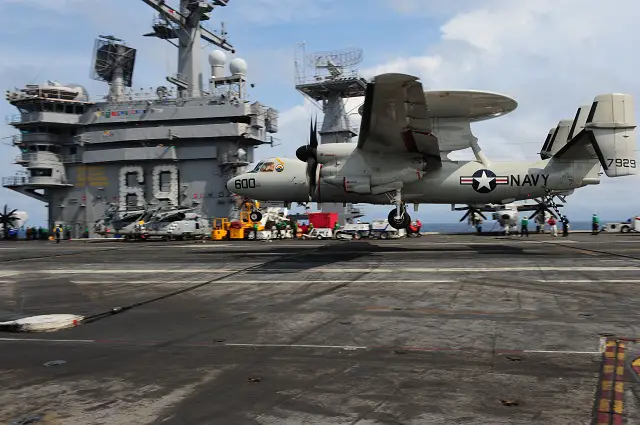 ATLANTIC OCEAN (Sept. 17, 2011) An E-2D Hawkeye assigned to Test and Evaluation Squadron (VX) 1 makes an arrested landing aboard the aircraft carrier USS Dwight D. Eisenhower (CVN 69).
Dwight D. Eisenhower is underway conducting carrier qualifications.
(U.S. Navy photo by Mass Communication Specialist Seaman Albert Jones)

"The tasking of our joint detachment at NAS Jax comes to VX-1 from Commander Operational Test and Evaluation Force (COMOPTEVFOR) and Commander Strike Force Training Atlantic (CSFTL). VX-1, based at NAS Patuxent River, Md., is in the midst of a big wave of operational evaluations that include programs for the P-3C and the new P-8A platform -in addition to programs for C-2A, E-2C and the new E-2D platform," explained Harkins.

Champaigne said, "VAW-120 acts as a trusted agent for VX-1. Our job is to determine how well the E-2D compares to what the Navy asked for, and how it operates in the real world as opposed to a controlled test environment."

"We're already getting qualitative assessments from aircrew and maintainers, including good feedback on the glass cockpit," he continued. "NFOs are liking the large 17-inch monitors at their workstations, as well as the option for the co-pilot to plug in as a fourth mission systems operator."

Harkins said, "We brought a cross-section of junior and senior flight crew because we want the perspective of those fresh from the FRS, as well as those with five or more years of operational experience in the Hawkeye community."

Over the next six months, the detachment will travel around the country to evaluate how it functions in large-force exercises, strike group and air wing exercises and joint exercises. During their time in Jacksonville, the sqaudrons will be part of the Enterprise JTFEX, the strike group's final operational exam before being certified for overseas combat operations.

"Since E-2s have the biggest footprints on the flight deck, the Enterprise air boss isn't going to be happy when we add two more to the mix. But they understand we're doing these tests to provide a new and improved platform to the fleet. So, we'll put two E-2Ds on board Enterprise and fly our other pair from NAS Jacksonville," said Harkins.

"To this point, the aircraft has proven it can meet developmental requirements. Now it's up to this detachment to assess everything in a more fluid and realistic operational environment," said Champaigne.
From: US Navy