a
Naval Defense Industry News - Netherlands
Netherlands Ministry of Defence awards Thales Goalkeeper CIWS Modification contract
The Netherland's Ministry of Defence and Thales Nederland have signed an agreement for the update of 16 Goalkeeper Close-In Weapon Systems that are operational in the Royal Netherlands Navy.

The operational modification will bring the system to the highest operational status again, capable of dealing with current and future threats. In addition, this contract solves various obsolescence issues. The enhanced surface target mode of Goalkeeper, in combination with a new frangible ammunition, provides Goalkeeper with the capability to act also as a highly effective defence weapon against surface targets including speed boats.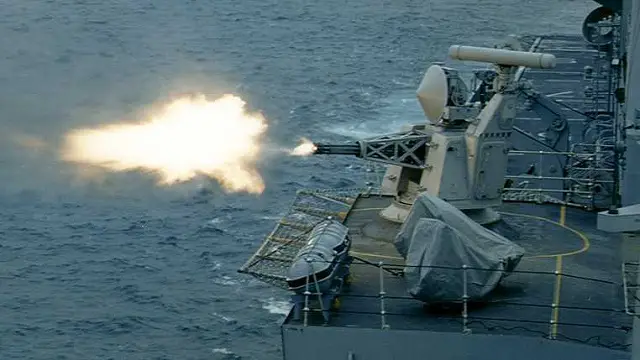 Thales Goalkeeper CIWS
(Picture: GDATP)
Goalkeeper's prediction capabilities will be substantially increased through the use of new algorithms and state-of-the-art Electro-Optic tracking capabilities. This enables Goalkeeper to successfully engage the latest generation of missiles. Multi-Goalkeeper deployment capabilities will also be improved. Goalkeeper was developed in the 1980s; these modifications enable its deployment until 2025.

The first Goalkeeper will be modified in 2015 and will be performed by Thales. All other Goalkeepers will be modified by the Royal Netherlands Navy at the naval base in Den Helder.

The contract includes an option for the two Goalkeeper systems on board of the M-class frigates of the Royal Belgian Navy. This option would ensure identical configurations and facilitate maintenance.

About Goalkeeper
Goalkeeper is a close-in defence system against highly manoeuvrable missiles and aircraft. It is an autonomous and fully automatic system which detects and tracks targets, opens fire and performs kill assessment for several targets simultaneously. Continuous search with track-while-scan provides an automatic and fast switch-over to the next-priority target in multiple-target scenarios. Goalkeeper assures timely detection of small and supersonic targets, even in dense clutter and jamming environments. Pin-point tracking of sea-skimming targets is assured by the unique dual-frequency track radar. Last but not least, the high-rate-of-fire Gatling 30-mm gun and special ammunition provide the lethal power necessary to destroy missile warheads. Goalkeeper's excellent performance was clearly demonstrated during various live firing trials. A total of 63 Goalkeepers have been sold to Navies in Europe, the Middle East and the Far East.