a
Naval Defense Industry News - USA
Bath Iron Works Awarded $39 Million for DDG 1000 Zumwalt Class Services
The U.S. Navy has awarded General Dynamics Bath Iron Works, a business unit of General Dynamics (GD), a $38.9 million modification to a previously awarded contract to perform class and engineering services associated with the detail design and construction of
Zumwalt class ships (DDG 1000).
Bath Iron Works will continue to provide manufacturing support services such as engineering, design, production control, accuracy control and information technology. Other class-support efforts include program management, contract and financial management, procurement and configuration/data management. The original contract was awarded in September 2011. Work is expected to be completed by October 2013.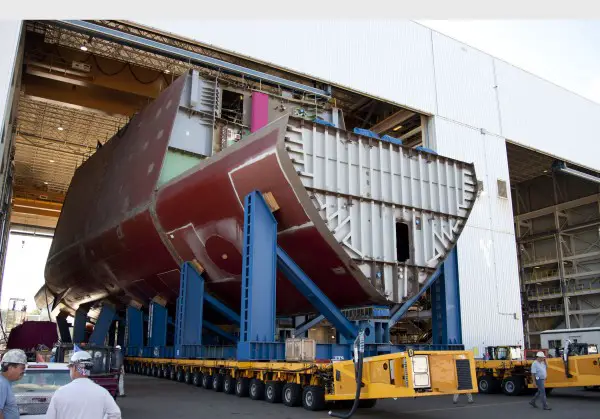 Part of the DDG-1000 keel
(picture: GENERAL DYNAMICS BATH IRON WORKS)
Link to DDG-1000 Zumwalt class Destroyer datasheet, specifications and pictures

Jeff Geiger, president of Bath Iron Works, said, "With all three Zumwalt-class ships now under construction, this award demonstrates the Navy's continued confidence in Bath Iron Works. The contract enables us to continue supporting the construction of DDG 1000-class ships and allows us to maintain the critical shipyard skills needed to efficiently produce them. Zumwalt (DDG 1000) is over 60 percent complete and we are leveraging what we've learned in building the lead ship to support our DDG 1001 and 1002 construction efforts. We remain focused on delivering high-quality, affordable Bath-built ships to the U.S. Navy."

The DDG 1000 Zumwalt-class destroyer is the U.S. Navy's next-generation, guided-missile naval destroyer, leading the way for a new generation of advanced multi-mission surface combat ships. The ships will feature a low radar profile, an integrated power system and a total ship computing environment infrastructure. Armed with an array of weapons, the Zumwalt-class destroyers will provide offensive, distributed and precision fires in support of forces ashore.