a
Naval Forces News - China
China's first aircraft carrier "Liaoning" (ex-Varyag) commissioned
China's first aircraft carrier was delivered and commissioned to the People's Liberation Army (PLA) Navy Tuesday, according to report by National Defense Ministry's official website.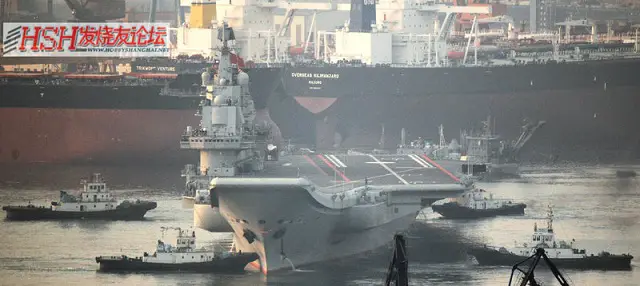 The Chinese Navy Liaoning aircraft carrier (ex-Varyag)
Overseen by top Chinese leaders, the carrier, with a name of "Liaoning" and hull number 16, was officially handed over at a ceremony held in a naval base of northeast China's Dalian Port.
The Chinese Navy will probably starting training its naval pilots for aircraft carrier operations.

It will take a long time for Chinese fighter pilots to train to land on the aircraft carrier, which is the most difficult step during training.

The Shenyang J-15 is a carrier-based fighter aircraft currently in development by the Shenyang Aircraft Corporation and the 601 Institute for the PLAN's (Chinese Navy) future aircraft carriers.

While the J-15 is based on Russian-designed Sukhoi Su-33, it is reported to share a large portions of electronics and avionics with the J-11.