a
Naval Forces News - Russia
First Krivak IV Frigate (Project 11356) Admiral Grigorovich to Join Russian Navy Next Year
Russia's first Project 11356 frigate, the Admiral Grigorovich, will join the Black Sea Fleet in 2014, Vice-Admiral Alexander Fedotenkov said on Monday. "The newest Project 11356 escort ship, the Admiral Grigorovich, should be launched in 2013 and join the Black Sea Fleet in 2014," Fedotenkov said.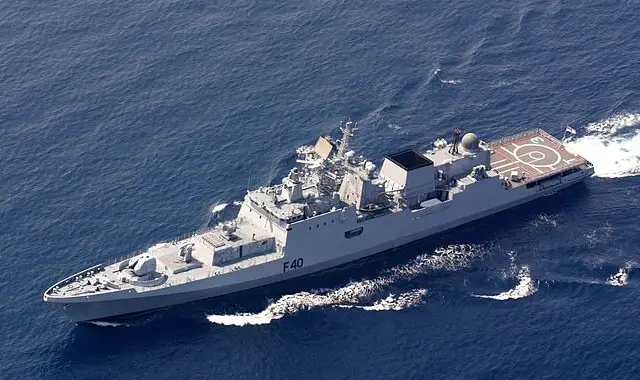 INS Talwar (Indian Navy) which Admiral Grigorovich is based on
(Picture: M. Mazumdar/ Bharat-Rakshak)
The Kaliningrad-based Yantar shipyard is to build a total of six Project 11356 frigates for delivery between 2014 and 2016 under a contract with the Defense Ministry.

The lead warship in the series, the Admiral Grigorovich, was laid down in December 2010, the second, the Admiral Essen, in July 2011 and the third, the Admiral Makarov, in February 2012.

The Project 11356 frigates, displacing 3,850 tons, are designed for anti-surface and anti-submarine warfare, both independently and as an escort, and are also armed with air defense systems.

The class are armed with an eight-cell launcher for Kalibr and Klub (3M54E) anti-ship and surface-to-surface missiles, a 100-mm main gun, Kashtan gun/missile close-in air defense systems, Shtil vertical-launch air defense missile systems, two torpedo tubes, an anti-submarine rocket system and a Ka-28 or Ka-31 helicopter, according to globalsecurity.org and rusnavy.com.

The Indian Navy received two Talwar class frigates, based on the 11356 design, in April and November last year, Times of India reported.