a
Defense Industry News - USA, Germany
Raytheon Anschuetz to supply Integrated Bridge to Royal Navy of Oman's Al-Ofouq-class OPVs
Raytheon Anschuetz, a German based, indirect, wholly-owned subsidiary of Raytheon Company, was awarded a contract to provide the company's Integrated Bridge and Navigation Systems for four Offshore Patrol Vessels for the Royal Navy of Oman. Proven and deployed on commercial vessels, the Integrated Bridge and Navigation Systems are scalable and adaptable to meet the needs and requirements of military applications for large and small naval platforms.

Under the contract, Raytheon Anschuetz will equip Oman's new Al-Ofouq-class Offshore Patrol Vessels with a complete, new-generation IBNS. Included in the scope of the program is comprehensive documentation and training for instructors, operators and maintenance support personnel.
(Video: Raytheon)
Features and Benefits of Raytheon Anschuetz's IBNS
The standardized human machine interface and increased functionality of the multifunctional workstations of the IBNS empower crew to operate from any workplace on the bridge. A consistent system design and the use of standard hardware provide a high level of flexibility to adapt the bridge system to various mission and naval requirements. The design and components also help to reduce costs associated with engineering, logistics, spares and technical support.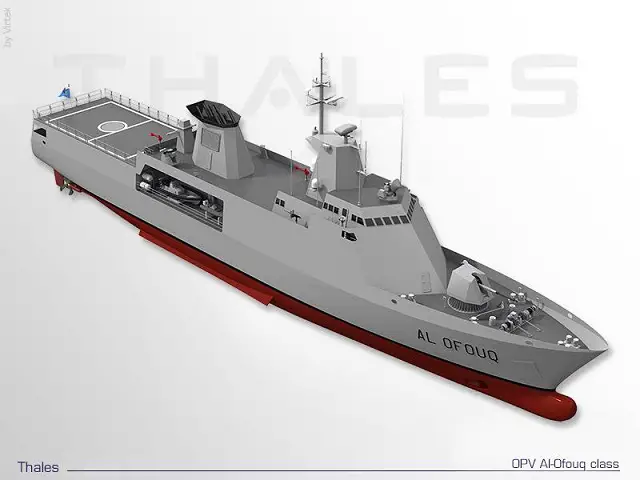 Royal Navy of Oman's Al-Ofouq-class Offshore Patrol Vessel
(Picture: Thales)
Oman's New Offshore Patrol Vessels
In 2012, the Royal Navy of Oman contracted with Singapore Technologies Marine Ltd to design and build the four patrol vessels. The keel laying for the first patrol vessel is planned for 2013 and all four vessels are planned to enter service for the Royal Navy of Oman between 2015 and 2016. The new vessels will replace the old inshore patrol boats.

The new Al-Ofouq-class vessels will undertake various tasks associated with national maritime security missions throughout the exclusive economic zone of Oman. The vessel's length is 75 meters and will feature weapon systems, a flight deck for helicopters or drones, and a maximum speed of 25 knots.