a
Naval Industry News - Poland
Poland finally moving forward with Gawron (Rook) class Corvette Project (Projekt 621)
Polish Procurement Agency concluded on the 12th of December two contracts worth about 100 million euros with the companies under the brand Thales to supply equipment for building OPV-class ship Slazak (Silesian). The agreements cover the supply by Thales of an Integrated Combat System and an Integrated Communications System.
Originally 7 Gawron-class corvettes were planned but work only begun on head of class: Slazak (Silesian). The class is based on Meko A-100 design by ThyssenKrupp Marine Systems
(Picture: Internet)

The ship is built in the Naval Shipyard in Gdynia on the basis of the hull and equipment taken from missile corvette project Gawron (MEKO A-100) built in 2001. The plan is to build and transfer the ship by November 2016. Adding up all the previously reported expenses, the estimated cost of building a Silesian OPV is about 240 million euros (1 billion zloty).
Along with the contracts for the purchase of equipment, the Ministry of Economy signed agreement offsets with Thales Nederland BV and Thales Electronic Systems GmbH. The offsets are worth 83 million Euro and will be implemented over ten years. Polish companies and military units will receive technologies required for servicing, repairing systems (level OLM / ILM) and training package for operators of the ship's crew.
The Slazak will be 95 meters long and will displace 2,150 tonnes. The ship will use the corvette's propulsion in the form of turbines that will generate a top speed of 30 knots, the same as high as for the corvette. The ship will be armed with a 76mm automatic gun caliber and two unmanned 30mm mounts. Additionally, it will be fitted with a helicopter deck.
The Slazak will be the first new combat ship built for the Polish Navy for 20 years. Her acquisition begins a naval modernization program that will run until 2030. The plan also includes three submarines, three missile corvettes, three OPVs and three mine-hunters.
Poland plans to spend annually about 240 million euros for the navy modernization program.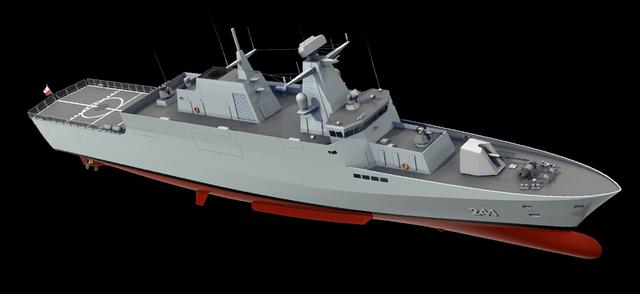 Slazak will be fitted with Thales Smart-S Mk2 radar
Image: Polish Ministry of Defense