a
Naval Forces News - UK, India
Royal Navy Frigate HMS Monmouth Escorted Aircraft Carrier Vikramaditya through Channel
The 4,900 tonne frigate met up with the newest Indian aircraft carrier INS Vikramaditya – weighing in at a massive 45,000 tonnes and helped her safely through the busy English Channel. Originally built for the Russian Navy as a modified Kiev class aircraft carrier, called Baku in 1987, India procured her in 2004 and she was accepted by the Indian Navy in a commissioning ceremony in November 2013.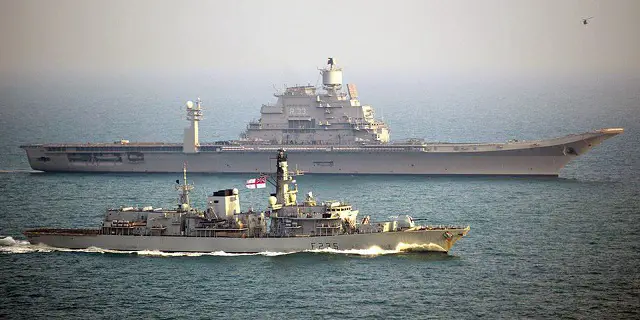 British frigate F 235 Monmouth (type 23) and the Indian aircraft carrier Vikramaditya R 33 in the English Channel. 12/12/2013 (c) Dean Nixon / UK Ministry of Defence
Following successful sea trials in July 2013 and aviation trials in September 2013 the carrier began her long journey to her new home of India escorted by auxiliary INS Deepak and Talwar class frigate INS Trikand.

HMS Monmouth's Operations Officer, Lt Cdr Chris Hollingworth, said:

"I was impressed at the scale the Vikramaditya, which displaces twice as much as HMS Illustrious.

"As the 65,000 tonne Queen Elizabeth Carriers are half as big again we will have quite formidable ships to operate in the near future."

With HMS Illustrious due to visit India over Christmas the interaction with the Indian's newest ship could not have been more timely. INS Vikranaditya also paid a visit to Portsmouth Naval base during the summer.

Celebrating her 20th year in commission, the escorting duty is HMS Monmouth's last commitment before return home to Plymouth to prepare for a major refit throughout 2014.