a
Naval Industry News - France, Brazil
São Paulo catapult: A DCNS team on the bridge of the Brazilian Navy aircraft carrier
At the request of the Brazilian Navy, DCNS performed a ship check on the forward catapult of the aircraft carrier São Paulo. The steam catapult, which already performed over 5000 launches, is a key element for the aircraft carrier capability. The goal of this intervention was to perform diagnostics and trials for the Brazilian Navy to restore the catapult's potential.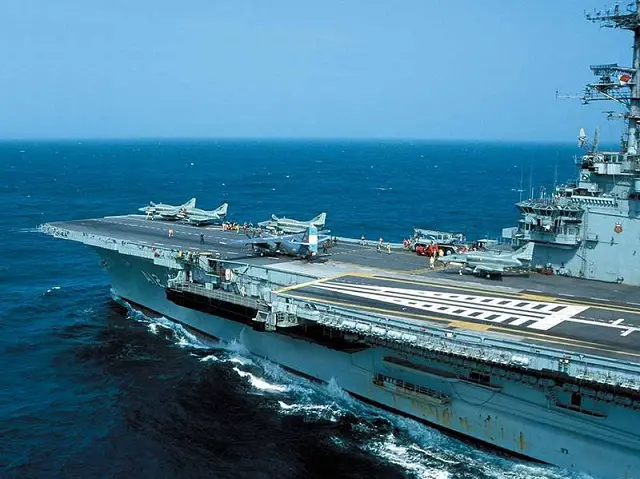 View of the forward flight deck of the Brazilian aircraft carrier Saõ Paulo (A12), in 2003
Picture: US Navy
Works were achieved in November at the naval premises of Rio de Janeiro, Brazil. After the team's intervention, the catapult was dry-fired twice, demonstrating the expected performance. The Brazilian authorities expressed satisfaction.
On aircraft carriers, catapult is used to launch aircrafts. It gets the planes up to high speeds in a very short distance.
From Foch to São Paulo
Sistership of the Clémenceau, the aircraft carrier Foch entered the dry-dock stage in Saint-Nazaire in 1957 and was launched three years later. It was towed to the Brest arsenal for completion. It entered active service in 1963 and ceased to be armed by the French Navy in 2000, when the Charles de Gaulle CVN came into service.
After a long period of maintenance and upgrade, the Foch was transferred to the Brazilian Navy. On 15 November 2000, it officially became the Brazilian aircraft carrier São Paulo.
With a length of 265 metres and a displacement of close to 33,000 tonnes when fully laden, the São Paulo is able to take on board 18 Sky Hawks. On the São Paulo, two steam catapults propulse an aircraft from 0 to 270 km/h in 2 seconds.