a
Naval Industry News - France
Agusta Westland selects Thales to supply FLASH Compact dipping sonars

Agusta Westland has selected Thales as the supplier of compact dipping sonars to equip its Lynx light helicopters for export markets.

The latest in Thales's FLASH range, the FLASH Compact is designed for smaller and lighter helicopters than those already using the FLASH sonar. The FLASH Compact sonar features an optimised, lightweight architecture as well as a fully electric reeling machine so that small helicopters can deploy the best-in-class, high-performance sonar system for anti-submarine warfare missions.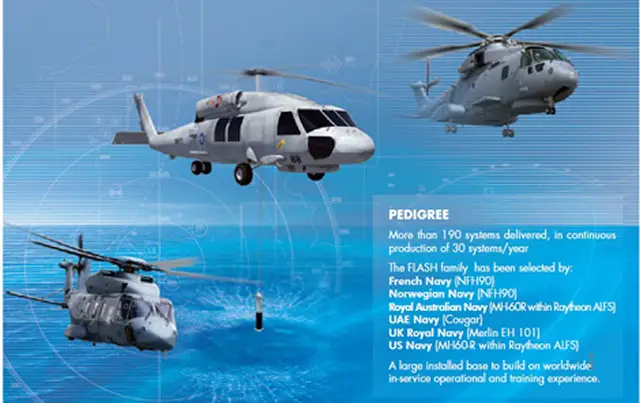 (pictures: Thales)

"We are very proud that Agusta Westland has chosen us as the supplier for their Lynx helicopters, further consolidating a partnership that dates back more than 10 years on the NH90 programme," said Benoit Plantier, Managing Director of Thales Underwater Systems. "This contract confirms Thales's expertise in anti-submarine warfare and also marks the first success for our new FLASH Compact sonar" he added.

The new contract also demonstrates Thales's ability to innovate by developing a more integrated system while meeting the weight and size constraints of smaller helicopters. Combined with a sonobuoy processing system, the FLASH Compact sonar brings smaller helicopters a full and very effective sonar suite.

In extending its FLASH range, Thales is also building on the success achieved with dipping sonars already installed on helicopters in service with navies in France (NH90 NFH), the United Kingdom (Merlin EH101), Norway (NH90), the United States (MH60-R), Sweden (NH90) and the United Arab Emirates (Cougar). This contract strengthens the Group's position as a leader in underwater Warfare.