a
Naval Industry News - Russia, India
Indian Navy Aircraft Carrier INS Vikramaditya set sail from Russia to India
India's Vikramaditya aircraft carrier left a shipyard in northern Russia on Tuesday, embarking on a long voyage to its permanent base half way across the world, the Sevmash shipbuilder said.

The Vikramaditya, a refurbished Russian carrier known as the Admiral Gorshkov, will make a short stop for refueling in the White Sea then proceed to the port of Murmansk, where the warship will stay for several days stocking up on fuel and other supplies before heading to a naval base in Karwar in southwestern India.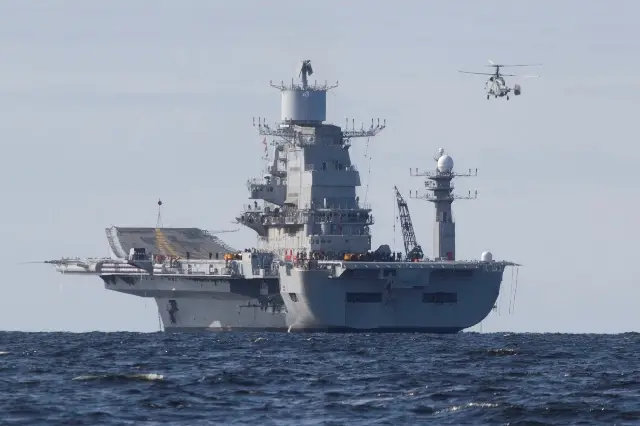 INS Vikramaditya, ex-Admiral Gorshkov, during the current sea trials
Picutre: Sevmash

The aircraft carrier, which was handed over to the Indian navy on November 16, will be accompanied by an Indian tanker and a frigate on the first leg of the voyage, which is expected to take about two months.

According to Sevmash, there are some 180 Russian specialists on board the warship who are tasked with monitoring the vessel's overall performance and the on-site training of the Indian crew, as well as providing assistance in fixing any possible glitches in the operation of the ship's systems, including air conditioning.

Part of the Russian personnel will stay on the Vikramaditya after its arrival in India in order to provide maintenance services under a one-year warranty agreement, followed by a servicing contract for a period of up to 40 years, the Sevmash said.

The Vikramaditya carrier, which is now five years past its original 2008 delivery date, was supposed to have been handed over to India in December 2012, but last year's sea trials revealed that the vessel's boilers were not fully functional.

The ship's refitting has lurched from one crisis to another since India and Russia signed a $947 million deal in 2004 for its purchase and refurbishment. Delivery has been delayed three times, pushing up the cost to $2.3 billion, sparking acrimony between Moscow and New Delhi over the contract.

The Indian Navy has already taken delivery of some of the carrier's MiG-29K naval fighter aircraft, which were completed before their parent ship was ready for sea.