a
Naval Forces News - USA
Raytheon's Standard Missile-6 (SM-6) Achieves Initial Operational Capability with USS Kidd
The SM-6 tactical missile has reached initial operation capability, the Navy announced today, with SM-6s successfully loaded onboard USS Kidd (DDG 100) in San Diego, Calif. The SM-6 is designed to provide naval vessels with extended range protection against cruise missiles, unmanned aerial vehicles and fixed and rotary wing aircraft.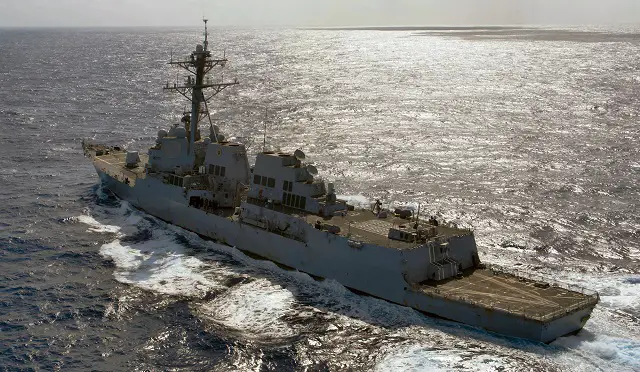 The Arleigh Burke-class guided-missile destroyer USS Kidd (DDG 100)
(U.S. Navy photo by Mass Communication Specialist 3rd Class Kenneth Abbate/Released)
"We're very pleased to achieve [initial operational capability] on schedule," said Capt. Mike Ladner, the major program manager of Surface Ship Weapons, whose portfolio includes SM-6. "The SM-6, with its ability to extend the battle space, truly improves shipboard air defense capability. I'm very proud of the entire Standard Missile team on this historic achievement."

SM-6 has entered full rate production and the program has already delivered 50 missiles ahead of schedule and under budget. Follow-on test and evaluation will continue in 2013 and 2014 to validate the integrated fire control capability in an operationally realistic environment.

PEO IWS, an affiliated program executive office of the Naval Sea Systems Command, manages surface ship and submarine combat technologies and systems and coordinates Navy enterprise solutions across ship platforms.
SM-6 Sea-based Testing (Video: Raytheon)
About the Standard Missile-6

SM-6 delivers a proven over-the-horizon air defense capability by leveraging the time-tested advantages of the Standard Missile's airframe and propulsion.

The SM-6 uses both active and semiactive guidance modes and advanced fuzing techniques.
It incorporates the advanced signal processing and guidance control capabilities from Raytheon's Advanced Medium-Range Air-to-Air Missile.